Editor's note: This reader review was submitted as part of Adult Summer Reading. We will be sharing more throughout the rest of the year.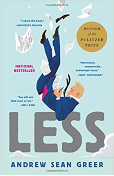 "Less" follows a man named Arthur Less, a divorcee and moderately successful author about to turn 50. To avoid attending the wedding of the man he loves to someone else, Arthur picks up every possible travel opportunity to have an adequate excuse not to attend the wedding. This takes him to Italy, Germany, France, Morocco, India and Japan. Several embarrassments, misadventures, and life lessons ensue. I really enjoyed this book. It made me laugh out loud several times, and the ever-changing scenery keeps it interesting.
Three words that describe this book: Fun, heartfelt, humorous
You might want to pick this book up if: You are looking for a light, fun summer read that still has substance.
-Anonymous