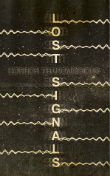 "Lost Signals" is a collection of short horror/suspense stories that all include radio transmissions or other forms of electronic communication as a theme. I really liked it because I like short stories and almost every story included was tightly woven. I am fascinated with numbers stations and other unsolved mysteries of this nature. The theme did get a little repetitive when reading three or four stories in a row, so I recommend this as an occasional read (with a cup of coffee or when you have a 10 minute block of time to kill), rather than a one-sitting book.
Three words that describe this book: Unsettling, Suspenseful, Eerie
You might want to pick this book up if: You like urban legends, unsolved mysteries and abandoned buildings.
-Carolyn