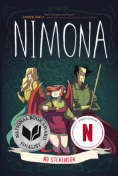 The book "Nimona" is about a girl who wants to become the best villain sidekick ever. The reader quickly finds out there's more to Nimona than meets the eye, as the character reveals her shapeshifting powers. The relationship between Nimona and the 'villain' Ballistar Blackheart is so charming as they warm up to each other. I enjoyed how their struggle against society was portrayed, despite how light that touch was. The setting was also delightful: a medieval futuristic mashup!
Three words that describe this book: Funny, Endearing, Exciting
You might want to pick this book up if: You enjoyed the Netflix animated movie, have fun with graphic novels/comics, like silly puns, love seeing LGBTQ+ representation.
-Anonymous
This reader review was submitted as part of Adult Summer Reading. We will continue to share reviews throughout the year.