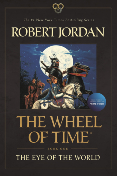 "The Eye of the World" is the first book in the Wheel of Time series by Robert Jordan. The series is described as a redefinition of the genre of fantasy adventure. The book follows five young people from a small farming community as they are caught up in an adventure that involves trollocs (like orcs for those who have read Lord of the Rings), friendly ogres and powerful witches. The action is non-stop, the character development is excellent, and the plot is enchanting on its own, and mind-boggling when one considers that it is setting up another 13 books. My word of advice: read the prequel "New Spring" first.
Three words that describe this book: Mythical, engrossing, enchanting
You might want to pick this book up if: you were in the mood for a long, fun, and always entertaining adventure.
-Lynn
This reader review was submitted as part of Adult Summer Reading 2021. We will continue to share these throughout the year.