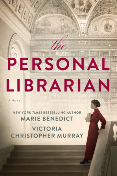 Another of Marie Benedict's fascinating historical fiction writings, "The Personal Librarian" describes Belle da Costa Greene, a light-skinned black woman who "passes" in the early twentieth century. Her father, the first black graduate of Howard University, fought for civil rights. Her mother chose to provide a better life for her children by becoming a part of the white privileged world.
Belle became librarian at Princeton where she was encouraged to apply for a position as librarian for J.P. Morgan to build his library into a world-renowned collection of ancient books and art. This girl, still in her twenties, managed to develop the skills needed to acquire these treasures, all the while maintaining her secret identity. The description of her ability to compete with male European collectors was fascinating, as was her relationship with her employer as he became more and more dependent on her and her decisions.
Perhaps the most interesting and important part of Belle's story is the passing for white in a world where constant attention was essential. Every word had to be considered; every life choice had consequences. She knew of the Ku Klux Klan, the lynchings and the privileges now bestowed upon her and her family. The authors give us a sad and believable account of Belle's life.
Three words that describe this book: important today, fascinating, moving
You might want to pick this book up if: You enjoy historical fiction and are interested in women's rights, racial injustices, and the development of wealth in early twentieth century United States.
-Janet
This reader review was submitted as part of Adult Summer Reading 2021. We will continue to share these throughout the year.