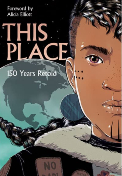 I read "This Place: 150 Years Retold" back in June, and it has stayed with me every day since. It is a graphic short story collection by and about the indigenous peoples of Canada. While their history and struggles are not the same as those who live in the US, it is still a powerful and, often, painful reminder of what indigenous people have had to go through for hundreds of years. The foreword mentions that people are always worrying about the apocalypse, while native communities are already living in one. I can honestly say this book and these stories changed my worldview for the better.
Three words that describe this book: Moving. Powerful. Educational.
You might want to pick this book up if: You want to learn more about native indigenous communities, are politically active and/or are interested in social movements.
-Anonymous
This reader review was previously submitted as part of Adult Summer Reading. We will continue to share these throughout the year.