"In America I live in New York, or dip into Chicago or San Francisco. But New York is no more America than Paris is France or London is England. Thus I discovered that I did not know my own country."
~John Steinbeck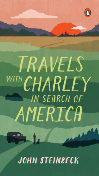 "Travels with Charley: In Search of America" was published in 1962, coincidentally the same year that John Steinbeck earned a Nobel Peace Prize, and rightfully so. Steinbeck travels America in a truck with a camper and his grey Standard Poodle named Charley. This well known writer expresses his travels in a satiric, witty and down right blunt way.
He encounters people of all walks of life and details their uniqueness. Whether it be camping with a farmer on his property in New Hampshire and discussing politics while sharing a few drinks, stopping by a dairy in Massachusetts to buy milk and discovering the dairyman has a Ph.D in mathematics but just loves his job as a dairyman, or a stay in Maine where his lodging is accompanied by a grey cat named George who Steinbeck hilariously describes as disgruntled: "I am told that when guests sleep in the house, George goes into the pine woods and watches from afar, grumbling his dissatisfaction and pouring out his dislike."
A wonderful insight to Steinbeck's personal opinions and life with his loyal dog, "Travels With Charley" is a fun and adventurous read about travels in America.
Three words that describe this book: Adventurous, funny, realistic
You might want to pick this book up if: You might pick this book up if you like Steinbeck and want to learn about his personal opinions and his cute dog!
-Mandy
This reader review was submitted as part of Adult Summer Reading. Submit your own book review here for a chance to have it featured on the Adults Blog.