I'm beginning to feel an extreme wanderlust! We usually take at least two trips a year — one as a family vacation during the summer and one to visit distant relatives over the holidays. But since last March, four days in the Mark Twain Forest has been the extent of our travels. It was lovely but I need more. Since we can't travel physically, I thought I would try to tour the country through literature. Every month, I plan on choosing a book per state and "travel" the country region by region. I'm going to begin in the Deep South.
Starting with South Carolina, I plan to read "Bastard Out of Carolina" by Dorothy Allison. It is set in the lush landscape of Greenville County and is told through the perspective of Ruth Anne Boatwright known as "Bone."  It's described as a grim story of poverty, child abuse and rape told through lovely prose and harrowing drama. This book has been languishing on my "to read" list since 2016. It's time.
From there, I will travel to Georgia in the book "Mama Day" by Gloria Naylor. This is a re-imagining of Shakespeare's "The Tempest" set on the island of Willow Springs just off the Georgia coast. Mama Day is a wise and sassy healer/shaman. She, along with her sister Abigail, has to help her independent niece who has left to make a life in New York City. This book promises to be filled with country lore and mysticism.
From Georgia, I will head to Florida. I'm turning to a non-fiction selection in "The Last Train To Paradise: Henry Flagler and the Spectacular Rise and Fall of the Railroad that Crossed an Ocean" by Les Standiford. It tells the gripping account of the remarkable construction of the Key West Railroad, one of the greatest engineering feats ever undertaken. It also tells of its equally remarkable destruction during the Labor Day hurricane of 1935. For twenty-two years, the railroad stood as "the Eighth Wonder of the World."
Moving on along, I will head to Alabama with a middle grade book by Irene Latham titled "Leaving Gee's Bend." The main character, Ludelphia Bennett, is blind in one eye even though she's an excellent seamstress and she sews to relieve her anxieties. But when mama goes into labor, quilting won't help. She has to leave Gee's Bend and travel by foot to Camden to get help. This book is set in 1932 and draws on the rich quilting history of Gee's Bend, Alabama.
I will travel through Mississippi through "The Collected Stories of Eudora Welty." Welty is considered to be one of the best Southern Female writers, writing from a variety of viewpoints with compassion. This is another book that has found itself stuck on my "to read" list for a very long time. This is a collection of 41 stories, written over a time span of around 30 years, and won her the National Book Award.
"The Autobiography of Miss Jane Pittman" by Ernest Gaines is a fictional account written as an autobiography by a woman whose life spans 100 years from her childhood as a slave on a Louisiana plantation to the Civil Rights era of the 1960's. Her remarkable story feels just as timely today.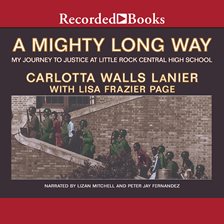 Heading into Arkansas, we will travel with fourteen year old Carlotta Walls as she braves Central High School in Little Rock during segregation in the book "A Mighty Long Way: My Journey to Justice at Little Rock Central High School" by Carlotta Walls Lanier. It was September 25, 1957 when she and eight other black students were just trying to go to class. We've seen the horrific images but now we can read her first hand account.
I will end my tour of the deep south here. It could be argued that Texas belongs here too, but I will save that one, my home state, for our next leg of the journey — the Southwest. My goal is to read one book for every state over the year. You can travel along with me if you like. I have collected a few more possible titles for the Deep South here.
Happy travels!