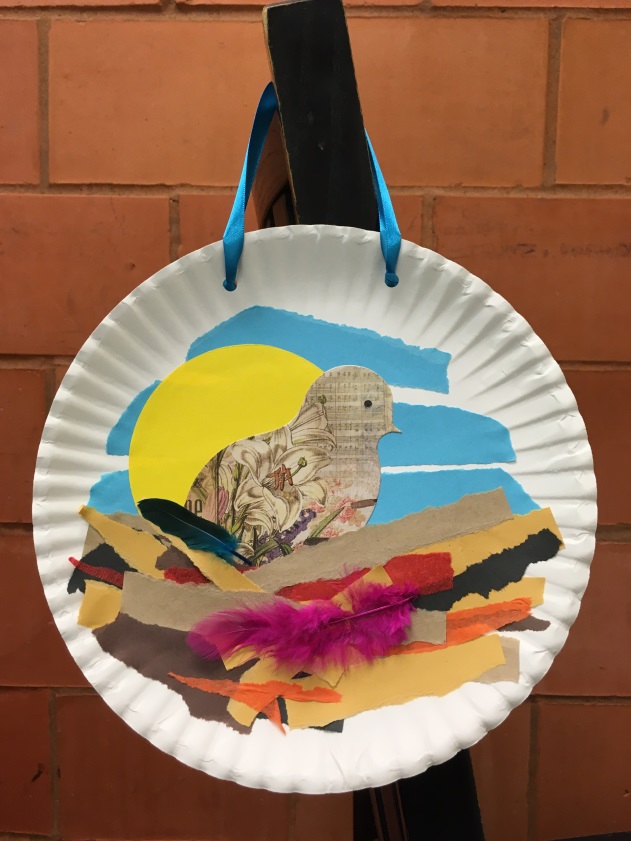 This arts and crafts project encourages children to use their fine motor skills and creativity to make a hanging to celebrate spring. Younger children can tear the different papers into strips to create the sky and the elements of the little bird's nest. Older children may enjoy cutting the twigs rather than tearing and weaving them together to form the nest. This is a fun project that will result in a pretty hanging your child will be proud of.
Materials
Paper plate
Hole punch
Paper bird (template)
Yellow construction paper
Crayons or markers

Scissors

Blue construction paper
Light brown, dark brown and dark yellow construction paper
Glue stick
15 inch long ribbon or yarn
Crepe paper, colored feathers or yarn for nest (optional)
Instructions
Punch two holes on the top of your paper plate.
Color your paper bird, then cut it out.
Cut out a circle from the yellow construction paper for the sun.
Tear or cut the blue construction paper into strips. Glue the strips onto the top half of the plate to create your sky.
Glue your sun on top of the blue strips.
Tear or cut the light brown, dark brown and dark yellow construction paper into strips.
Set aside a handful of the strips. Glue the rest of the strips onto the bottom half of the plate to create your bird's nest.
Glue your bird on top of your nest.
Glue the last handful of strips of paper to cover your bird's legs.
Thread the ribbon or yarn through the two holes in the plate and knot the ribbon in the back to create a loop.
Optional: As a finishing touch, glue feathers, crepe paper or yarn on the nest.
Did You Know?
Missouri and New York share the same state bird: the eastern bluebird.
The two most common bluebirds in Missouri are the eastern bluebird and the indigo bunting.
Male eastern bluebirds have blue top feathers with an orange-ish throat and chest. Female eastern bluebirds have gray top feathers, blue-ish wings and a muted orange-brown chest.
Male indigo buntings are turquoise blue all over in direct sun but otherwise look dark blue or black-ish. Female indigo buntings are light brown with streaks on their chest and a white-ish throat.
Bird song
Want to know what sounds a bluebird makes? Listen here!
Attracting bluebirds to your property
The University of Missouri's Extension Office has lots of information about the bluebird's habitat and nesting requirements, as well as guides on building nest boxes to encourage bluebirds to visit your property.