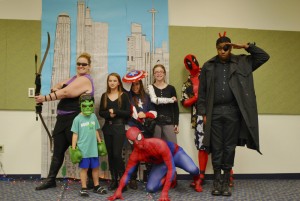 Our library hosted its first Cosplay Costume Con in Columbia on Wednesday, July 22. All ages participated, from a teeny, tiny Superman baby to a Mizzou professor dressed as Edward Scissorhands. Brandy Cross, co-owner of Distant Planet Comics & Collectibles, volunteered to help myself and another staff member judge the costume contest. In addition to the catwalk antics of young and old, friends and strangers posed together in front of our cityscape photo op.
Fulton and Ashland are also having Cosplay Cons! Our Callaway County branch has a Cosplay Con on Thursday, July 30, from 6:30 to 7:30 p.m. Our Ashland branch has a similar program on Tuesday, August 4, from 6:30 to 7:30 p.m.
Whether you want to relive this great night in Columbia or you missed the event but want to see the fun, we have numerous pics for you. Show your support in the comments if you would like to see this program become an annual event!