2023 is officially underway, and the start of a new year is a great time to begin prioritizing mental health and self-care practices. Laying a strong foundation for a healthy emotional life starts in childhood. Babies begin to recognize facial expressions, toddlers learn to identify feelings and preschoolers and school-age kids can develop healthy habits like anger management and deep breathing techniques. Unfortunately, many of us didn't gain these valuable skills growing up. But luckily, the conversation around mental health has exploded in recent years, and we've seen a huge uptick in books and other resources to help give kids the tools they need to process and express their emotions. In this virtual activity bundle, you'll find a number of online resources to promote education, encouragement, comfort and calm. Get the conversation started and show your mind some kindness with a little help from this selection of eBooks, songs, videos and activities!
Books
"Elmo's Emojis: A Book of Faces and Feelings" by Sesame Workshop
Why is Cookie Monster worried? What makes Abby feel proud? Engage your toddler in the important work of identifying emotions and recognizing facial expressions with a little help from Elmo and the rest of the Sesame Street crew!
"Crying Is Like the Rain" by Heather Hawk Feinberg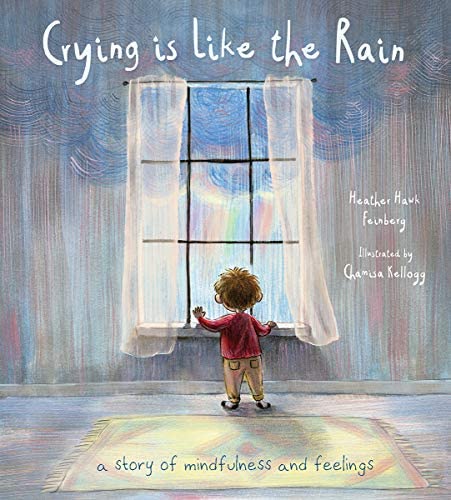 In this sweet but powerful allegory, a boy feels all his feelings as he embarks on his first day of school. Sometimes the rain we feel is slow and gray, and sometimes thunder and lightning come bursting through the clouds. No matter what our tears look like, each storm deserves to be felt, knowing that there is relief — and sometimes even a rainbow — waiting on the other side.
"Grumpy Monkey" by Suzanne Lang
Jim Panzee is in an undeniable funk. His jungle pals suggest all manner of methods to cheer him up, but it's tough to accept help when you can't even admit what you're feeling. Luckily, Norman the gorilla meets Jim right where he's at, and the two find that it's okay to feel a little down sometimes.
"The Big Worry Day" by K.A. Reynolds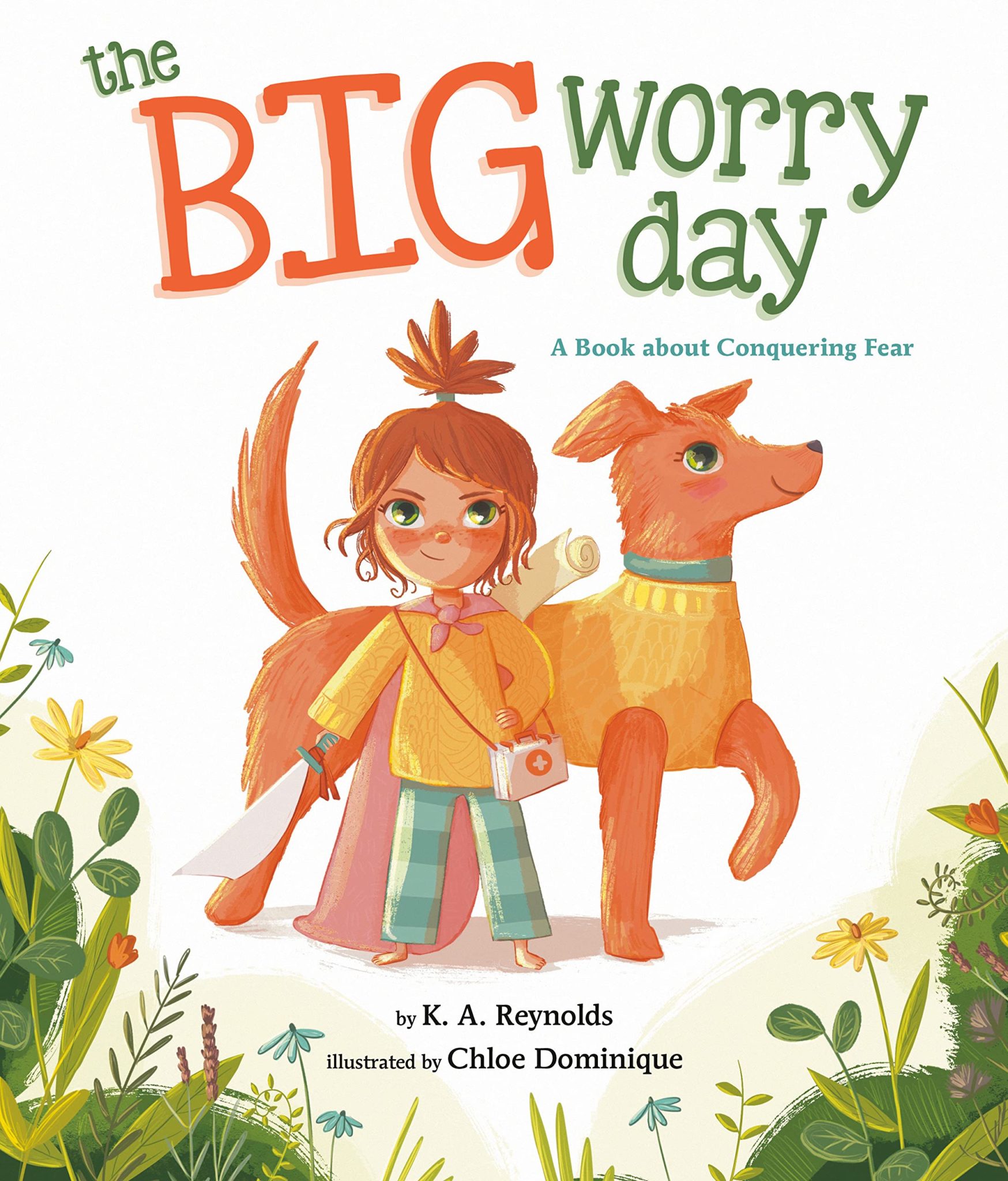 Bea the dog and her little girl prepare themselves for the day ahead. Snacks, a first aid kit and maybe even a monster-fighting sword might help, but sometimes it takes a little introspective work to ward off the what-ifs. This story acknowledges the real power of anxiety while providing a bright and practical path forward, all with a little help from a furry friend.
"The Red Book: What to Do When You're Angry" by William Anthony
Part of a colorful nonfiction series on emotions, this installment focuses on healthy ways to manage anger. Each page features tips and tricks, starting with acknowledging feelings of anger then finding clever and calming coping mechanisms. There's so much more to be found here than just punching a pillow, like creative breathing exercises and even a target for paper-throwing!
"I Am Okay to Feel" by Karamo Brown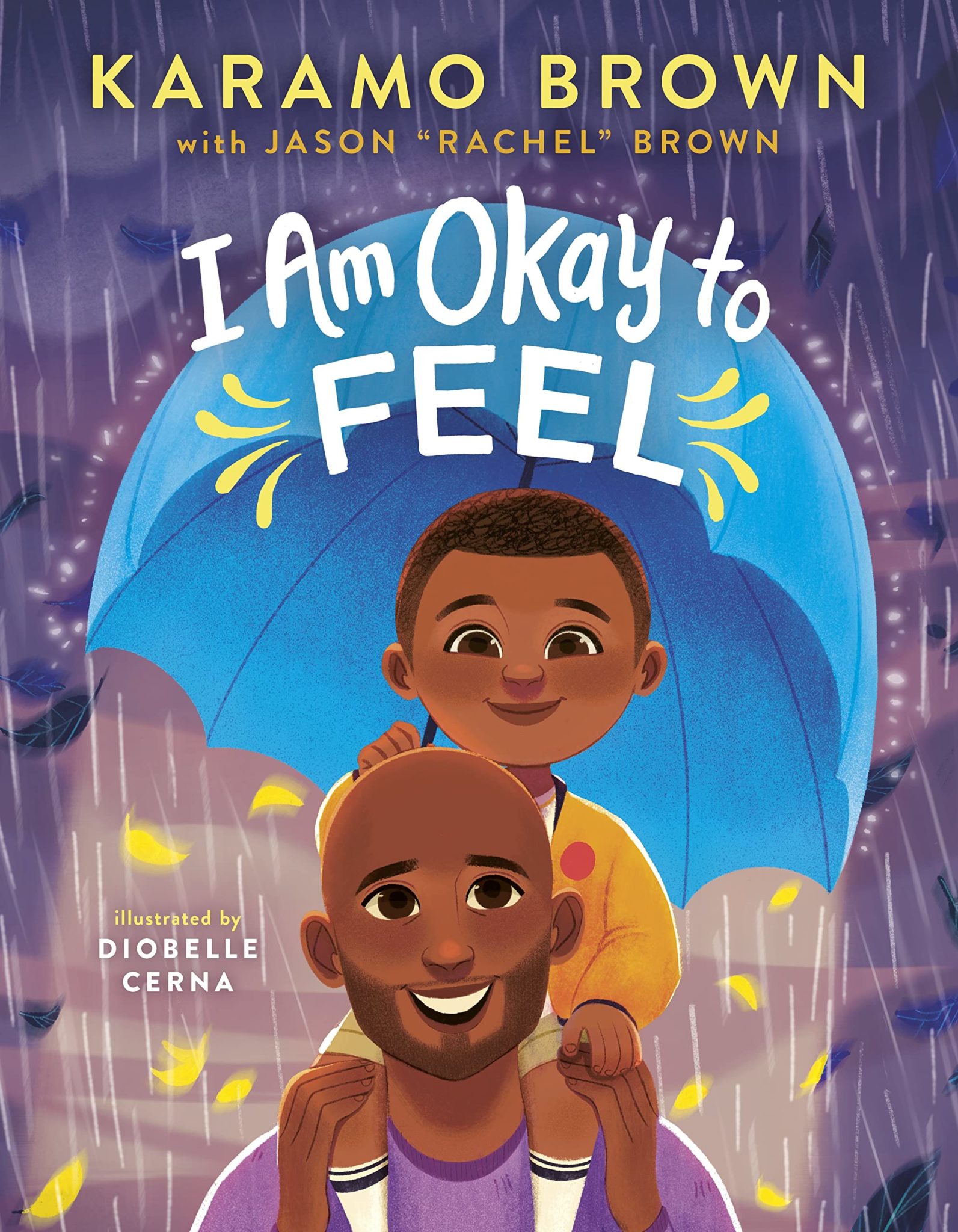 Queer Eye star Karamo Brown teamed up with his son Jason to create this heartwarming tale centering the emotional lives of boys. A boy and his dad get caught in a thunderstorm on a day out, the perfect parallel for the torrent of emotions we all experience from time to time. Together, the pair learn to acknowledge their feelings, embrace the uncertainty and ride out the storm.
"Brave Every Day" by Trudy Ludwig
The long-awaited field trip to the aquarium is finally here, but Camila's worries fill her with dread. Feeling left out of the fun and in need of a break, Camila sneaks off and happens upon a kindred spirit, her equally anxious classmate Kai. With a new friend by her side, Camila uncovers courage she didn't know she had, and the pair begin to realize all the little ways they are brave every day.
Music
"Peaceful and Calm" by Kira Willey
Kira Willey's sweet voice combined with this simple song is the very definition of peaceful and calm. The lyrics lead little ones through starfish breaths, tracing the air with their fingers like a starfish floating on a gentle ocean current.
"I Am Angry (Yes, I Am)" by The Laurie Berkner Band
Anger can be one of the scariest emotions to experience, but as Laurie Berkner reminds us, sometimes we just need a moment to feel the storm inside. Shaking fists, growling and punching pillows feels good for a moment, but knowing that they're loved despite their scary feelings may be just what kids need to cool down. I truly appreciate the line "stay right here, hold me tight, love me just as I am."
"Skip to My Lou: Yoga Version" by Bari Koral
Bari Koral takes inspiration from this beloved children's tune to demonstrate some yoga poses for beginners. While this isn't meant to be a peaceful yoga flow, it's a fun way to practice animal-inspired poses like cow and frog and get some wiggles out while you're at it!
"Strong, Smart, Kind" by Kira Willey
Can you tell that I can't get enough of Kira Willey? This upbeat song provides some empowering affirmations for reminding little ones just how awesome they are. A strong body, a smart mind and a kind heart will take you far!
Videos
"Emotions" by Netflix Jr.
Netlix Jr.s's Storybots take on emotions in this super fun collection of skits and songs. The colorful cast of bots paired with clever lyrics and visuals make for a delightful and educational viewing experience. From silly monkeys to grumpy grizzly bears, every feeling is worth exploring!
"The Body Scanner!" by The Mindfulness Teacher
The body scan is an effective, widely-practiced mindfulness technique, perfect for quelling anxious thoughts or winding down before bed. Simplistic visuals draw in focus while a calming narrator guides listeners through a kid-friendly body awareness exercise.
"Rainbow Relaxation" by The Mindfulness Teacher
This second pick from The Mindfulness Teacher guides us through a combination of deep breathing and gentle movements. As kids stretch their arms, colorful bands appear across the screen one by one to paint a rainbow! An excellent option for creating calm in the classroom.
"Why Do We Lose Control of Our Emotions?" by Kids Want to Know
This video explores emotional regulation in terms kids can understand. Kids and adults alike "flips their lid" sometimes, and understanding why and how this happens can be the first step to safely expressing our emotions. Learn a little bit about how your brain communicates messages to all its different areas then practice some healthy ways to get the emotional and logical parts talking again.
"Grow Into a Tree" by BrightenUp! Kids
In this interactive guided meditation, kids grow from a tiny seed snuggled warm in the ground to a full-grown, strongly-rooted tree. Leaves appear as kids take stock of all the amazing things they're good at. A power pose, some self-love affirmations and a cool-down session wrap up this feel-good confidence boost!
Activities
Blow Painting with Straws
Deep breathing techniques are an essential tool in the emotional regulation toolkit, but excitable little ones often have a difficult time focusing in on the task. Blow painting helps kids visualize the effects of their breath. This is also a great exercise in going with the flow; controlling free-flowing paint is nearly impossible, so practice giving in to the process and enjoy the ride. Best of all, you'll end up with a funky work of art at the end!
Materials:
Paper (preferably heavier, like cardstock or poster board)
Tempera paint, liquid watercolor paint or food coloring
Small cups
Straws
A safety pin, push pin or sewing needle
Pipettes or droppers (optional)
Directions:
1. Gather your materials and cover your workspace and clothes to protect them from flying paint.
2. Place paint or mix up water and food coloring in the small bowls. If necessary, add a little water to keep things flowing.
3. Using a safety pin, push pin or sewing needle, carefully poke a hole through the middle of your straws to prevent little ones from inhaling any paint.
4. Before you begin painting, it's a good idea to practice blowing out through the straw rather than sucking in. Have your child place their hand in front of the straw and notice how it feels.
5. Fill a pipette or dropper with paint and squeeze to release a few droplets on the paper. Alternatively, you can achieve the same thing by placing your straw in the paint, pushing your thumb to the top of the straw and then releasing your thumb once the straw is in position over the paper.
6. Blow through the straw to spread the paint droplets across the paper. Add more paint droplets as needed. For larger swaths of color, try gently pouring a little paint across the paper then spreading it out by blowing through the straw.
7. Now's the time to experiment! Try long, slow breaths then short bursts of air. How do different kinds of breath change your painting? Notice how deep breaths and short breaths make your body feel. Do you feel relaxed, invigorated, in control…?
8. Sometimes it's difficult when your art doesn't turn out the way you imagined it would. If you notice your child growing frustrated or disappointed, talk through these feelings. Being able to let go of control and enjoy the process, however messy or unexpected it may be, is an essential life skill.
9. Keep going until you're satisfied with your creation then let the painting dry in a safe place.
DIY Sand Garden
This simple sand garden takes the Zen Buddhist tradition of creating swirling rock gardens and shrinks it down to tabletop size. According to this fascinating BBC article, "All manner of activities, from sweeping the garden and chopping vegetables, to the tea ceremony, ikebana (flower arrangement), and landscape gardening are all considered practices of Zen discipline, aimed at focusing the mind and working toward spiritual awakening." Today, mental health professionals have recognized the meditative and imaginative benefits of simply playing in the sand, incorporating sand tray therapy into clinical care for both kids and adults. Create your own mini sand garden as part of a calm-down corner for your child to engage in some gentle sensory play!
Materials:
A shallow container like a serving tray, flower pot saucer, casserole dish, etc. (consider a container with a lid to keep messes at bay)
Craft sand
A fork, spoon, chopsticks, etc.
Small toys, stones, fake plants, etc.
Directions:
1. Clean and dry your container of choice.
2. Carefully fill the container with craft sand.
3. Encourage your child to gently play in the sand with their hands. Drag your fingers through the sand, take a handful and let it fall through your fingers, etc. Notice and describe the sensations. Is the sand warm or cold, rough or soft?
4. Use a fork, spoon or chopsticks to draw designs in the sand. Drag your utensil across the surface of the sand, dig a little trench, scoop the sand into piles, etc. Take it slow and steady and play for as long as desired.
5. Create a scene in your sand garden using small toys, stones, fake plants and other small objects found in the house. This is also a great use for all those tiny treasures kids tend to pick up outdoors. The best part about sand is that you can smooth out your work and design new scenes endlessly!
A Final Note
According to the National Alliance on Mental Illness, actively engaging in your child's emotional life can help identify early signs of mental health concerns like anxiety disorders, depression or behavioral issues. Pay close attention to any new and unusual behaviors or even physical symptoms like frequent headaches or upset tummies. If you or your child are facing complex, persistent mental health concerns or challenging life circumstances, know that there are a variety of local nonprofits and government agencies dedicated to getting you the help you need. Consult DBRL's mental health guide, FACE of Boone County or your child's doctor or school counselor for free and low-cost resources that can help you and your child get started on the road to better mental health. Mental health is a tangled web of factors, and no one is solely to blame, so be kind to yourself as you take the brave step of seeking help for your child.