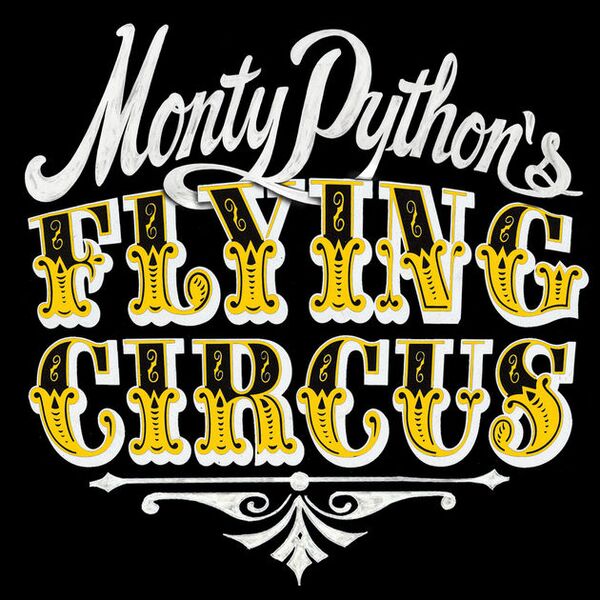 And now for something completely different.
October 5 marks the 50th anniversary of when the first episode of Monty Python's Flying Circus aired on television in 1969. Monty Python is a British surreal comedy group. The television show was conceived, written and performed by its members Graham Chapman, John Cleese, Terry Gilliam, Eric Idle, Terry Jones and Michael Palin. Besides the television show, there were several well known movies made by the Monty Python group. To learn more about Monty Python check out the suggestions below. You can also find a more extensive list on our catalog.
Books
"Monty Python's Flying Circus: Hidden Treasures" by Adrian Besley
This is the story of Monty Python, one the most popular and influential forces in modern comedy — and of their TV show — told in words and images. This celebratory book includes 22 removable facsimiles of rare memorabilia from their official archives, including hand-scribbled scripts, cue sheets, character lists, posters and animation artwork. Written with active input from the Pythons themselves, the book recounts the adventures of all six members and their TV show, from early days in the Cambridge Footlights through early appearances on the BBC, global stardom, the inevitable fights and their triumphant reunions.
"The Pythons: Autobiograpy" by the creators of Monty Python
From its humble beginnings as late night entertainment on a British TV channel that went off the air before midnight, Monty Python's Flying Circus blossomed into arguably the most influential movement in modern comedy. They found the Holy Grail, detailed the life of the Savior-also-ran Brian, and explained the Meaning of life. Now, those purveyors of dead parrots and silly walks are going to tell us something more: their story. In their own, intimate, never before heard words. "The Pythons" is the definitive word on all things Pythonesque. Thirty years of insight, hindsight, and bad sight — now told for the first time. Stuff they're never remembered before alongside stories they'd forgotten to say, coupled with things they couldn't say then and even more things they can't pronounce now (with a healthy dollop of things they would never have said in the first place if any others had been in the room at the time.) "The Pythons" is a unique look at arguably the most important comic team of the modern age, lavishly illustrated with 1000 photographs and illustrations, many culled from the teams' own personal collections, many seen here for the first time.
"Always Look on the Bright Side of Life: A Sortabiography" by Eric Idle
We know him best for his unforgettable roles on Monty Python — from the Flying Circus to The Meaning of Life. Now, Eric Idle reflects on the meaning of his own life in this entertaining memoir that takes us on a remarkable journey from his childhood in an austere boarding school through his successful career in comedy, television, theater and film. Coming of age as a writer and comedian during the '60s and '70s, Eric stumbled into the crossroads of the cultural revolution and found himself rubbing shoulders with the likes of George Harrison, David Bowie and Robin Williams, all of whom became dear lifelong friends. With anecdotes sprinkled throughout involving other close friends and luminaries such as Mike Nichols, Mick Jagger, Steve Martin, Paul Simon and Lorne Michaels, as well as the Pythons themselves, Eric captures a time of tremendous creative output with equal parts hilarity and heart. "In Always Look on the Bright Side of Life," named for the song he wrote for "Life of Brian" and which has since become the number one song played at funerals in the UK, he shares the highlights of his life and career with the kind of offbeat humor that has delighted audiences for five decades. The year 2019 marks the 50th anniversary of The Pythons, and Eric is marking the occasion with this hilarious memoir chock full of behind-the-scenes stories from a high-flying life featuring everyone from Princess Leia to Queen Elizabeth
DVDs
"Monty Python: Almost the Truth"
"Monty Python Live (Mostly)"
"The Meaning of Life"