Summer is unofficially here! We are swinging into the season and our communities are pulling together for a variety of different celebrations. These festivals often include art shows or vendor areas where artists get to display their artwork, like paintings, sculptures and photos. There are sometimes live performances as well. Our region hosts a number of art festivals and I'd like to introduce you to several of them, then also share a bit of resources we have regarding fine art.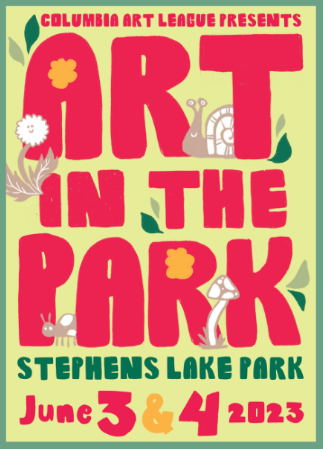 Coming up on June 3-4 at Stephens Lake Park is Art in the Park, hosted by the Columbia Art League. Art in the Park, which originated in 1959, has become a cherished tradition and the largest fine arts festival in mid-Missouri. This annual event attracts talented artists from all corners of the United States, showcasing an impressive array of artistic mediums such as painting, drawing, photography, pottery, jewelry, fibers, sculpture, woodwork and glasswork.
On Saturday, June 17, Fulton is hosting a Community-Wide Juneteenth Celebration.  The City of Fulton Human Rights Commission hosts this event, with food and vendor sales taking place between noon and 4 p.m. at Legends Rec-Plex.
There will be food, music, art and much more to enjoy in the afternoon. Major General (retired) Byron S. Bagby is the guest speaker at 1:00 p.m. Plus the day offers music, poetry, and prayer led by local artists as well as art activities for the children.
Columbia is holding its Third Annual Juneteenth Celebration at Douglass Park after the COMO Juneteenth Parade, which starts at 10 a.m. at the First Baptist Church. The parade itself is a visual and musical experience not to be missed. Join the community at the park for dancing, food, and many great COMO organizations showcasing local information.
On June 23 and 24, Downtown Fulton is holding the 19th Annual "Hit the Bricks" Fulton Street Fair. Along with a carnival, lots of music, a parade, contests and races, vendors line both sides of a three-block area and into some of the side streets. Artists and craftsmen join other business people to highlight some of the best of Fulton's community.
The first "Art in the Park" event is difficult to pinpoint since it has happened in various places over time. However, one early example was the Salon des Refusés in 1863. It was an exhibition held in a park called the Tuileries Gardens in Paris, France. Although it may not be exactly like the "Art in the Park" events we know today, it was a precursor to the idea of displaying art in outdoor public spaces. Since then, many cities have organized similar events where they showcase art in parks to make it more accessible to the public.
While I've been unable to find a mention of this exact Parisian park, I have been dipping into "A Passion for Paris: Romanticism and Romance in the City of Light" all week long. Author David Downie provides a joyful walking tour through many parks and landmarks and important buildings. His writing uses a most artistic and whimsical brush and I recommend this book to anyone who enjoys history with the spice of a travelogue.
The Hudson River School emerged as an artistic movement during the mid-19th century in America. It consisted of a collective of landscape painters whose creative expressions were deeply influenced by the ideals of Romanticism. Landscape painters set up paint and easel, stool and shade to capture their images, often alongside other members of the school. One can imagine some of these painters attracting viewers and visitors, literally providing an 'art in the park' experience. The resulting artwork then brought American landscapes into museums, buildings and homes, encouraging Americans to visit and protect our national wilderness areas.
If you want to learn more about the Hudson River School or about any particular artist from that movement, check out one of the books we have or investigate our digital library holdings in such resources as American History Online or Academic Search Elite, a scholarly collection provides full-text journal articles for most academic areas.
Of course, we have many, many books and other resources about all types of art, art history, artistic techniques and more for all ages and abilities. My favorite part of our nonfiction collections can be found here, and probably no surprise to anyone who knows me.
Your regional libraries are proud to hold art within our walls as well as provide you with ways to learn about artists, art techniques and about events in our communities. I hope you find visiting any of the events in Boone and Callaway counties to be a delightful experience.