John Steinbeck said, "All modern American literature comes from one book by Mark Twain called 'Huckleberry Finn.'"
That's right; our state produced the father of American letters. And don't think we don't know it. Take a look at our state map: Mark Twain National Forest, Mark Twain State Park, Mark Twain Cave. Never mind that Samuel Clemens (Twain's real name) moved away as an adult and did his writing in other locations; it's obvious his Missouri boyhood influenced his career. A visit to the cavern now named after him leaves no doubt it was the setting for Tom Sawyer's underground adventures.
A day spent in Hannibal provides an even richer experience of the author's life and work. The Mark Twain Boyhood Home and Museum is comprised of several buildings, including the Clemens home and the homes of some childhood companions who were models for his fictional characters. You can often catch performances by Twain impersonators around town, and you take a riverboat ride reminiscent of the author's steamboat travels. Jim's Journey: The Huck Finn Freedom Center is a museum dedicated to African American life in the area. If you want to go back to the very beginning, visit the Mark Twain Birthplace in Florida, Missouri.
The history of famous Missouri authors doesn't end with Twain. Laura Ingalls Wilder penned her series of "Little House" books at a writing desk in her farmhouse near Mansfield, Missouri. The home still stands as a museum. Among the many artifacts on display is Pa's fiddle, central to so many scenes in Wilder's stories.
Lest a paragraph go by without a mention of Mark Twain, I will say he was on hand to help dedicate the Eugene Field House and Toy Museum when it opened in 1902. Located in St. Louis, the museum recognizes poet Eugene Field and his father, Roswell Field, an attorney who represented Dred and Harriett Scott in court as they sought their freedom from slavery.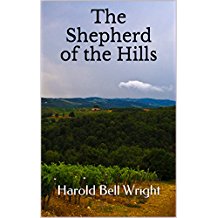 In the Branson area, one book has been celebrated for decades. (It's not by Mark Twain. But see how I managed to find a way to work his name in again?) Harold Bell Wright's "Shepherd of the Hills," based on true events, spawned a stage play with a decades-long run. Many sites associated with the book are open for tours. Old Matt's cabin is the home of the couple whose lives informed Bell's story, and Inspiration Point lived up to its name in providing a spot for Wright to contemplate and create.
The great thing about living in central Missouri is the proximity to all of these places. The longest drive from Boone County is to Branson. That's a little over three hours by car, or slightly longer by stagecoach, a common form of travel in Twain's day.
Feature image credit: Road, chrizzel_lu via Pixabay (license)