Here is a new DVD list highlighting various titles recently added to the library's collection.
"Downton Abbey: The Motion Picture"
Website / Reviews 
Playing last year at Ragtag Cinema, this fictional film takes place after the conclusion of the hit television series, which examined the lives of the Crawley family and the servants who worked for them at the turn of the 20th century in an Edwardian English country house. In this film the Crawleys and their intrepid staff prepare for the most important moment of their lives: a royal visit from the King and Queen of England.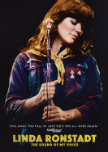 "Linda Ronstadt: The Sound of My Voice"
Website / Reviews 
Shown last year at Ragtag Cinema, this documentary is a musical biography of Linda Ronstadt. Her extraordinary vocal range and ambition created unforgettable songs across rock, pop, country, folk ballads, American standards, classic Mexican music and soul. This film celebrates an artist whose desire to share the music she loved made generations of fans fall in love with her — and the sound of her voice.
"City on A Hill"
Season 1
Website / Reviews 
Set in 1990's Boston, an assistant district attorney and a corrupt yet venerated FBI veteran work together to take on a case that grows to involve, and ultimately subvert, the entire criminal justice system of Boston. Family, blood, betrayal, honor, corruption, all combine in this powerful series.
Other notable releases: