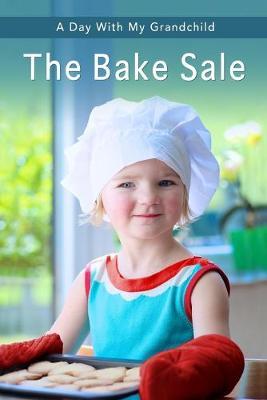 I read to my Mom on a weekly basis. (This can be done virtually through various video communication platforms such as Zoom or Duo or Facetime.) She has Alzheimer's and vision issues. Reading aloud is something I can share with her and it makes us both feel good. She enjoyed the Chicken Soup for the Soul book series, but we've read every one her caregivers and I could find. Because of her memory issues, reading a novel is out of the question. Recently I discovered "The Bake Sale." It is the story of a grandmother whose 4-year-old granddaughter helps her bake cookies for a church bake sale. They have fun baking cookies, packaging them and taking them to the church. There, they purchase other baked goods for themselves. This is a short, upbeat story with an uncomplicated plot, simple language and a satisfying ending. It includes lovely photographs of a child and cookies. After reading we ate cookies and I shared a story about making cookies with my younger sisters when we were kids. This book was written specifically for adults with Alzheimer's but the format was very similar to a book for a child.
This got me thinking about children's picture books. I found this wonderful article by Rick Walton called "Why Picture Books Are Important, and Why They Are For Everyone." Some picture books point out fundamental truths in easy to understand language and include wonderful images. The best picture books are illustrated with high quality artwork. Picture books are meant to be shared. They offer connection and often are a jumping off place for further discussion. So I went in search of picture books I could share with my mom.
I found there are lots of picture book biographies that would be appropriate to share with adults as well as children of all ages. The first one I tried was "How the Cookie Crumbled: The True (and Not-so-true) Stories of the Invention of the Chocolate Chip Cookie" by Gilbert Ford. This is a fun book about the different stories told about the invention of my favorite cookie. Of course, we ate cookies afterwards. Another day I read "Ordinary, Extraordinary Jane Austen: The Story of Six Novels, Three Notebooks, A Writing Box, and One Clever Girl" by Deborah Hopkinson. My mom loved literature when she was younger so I thought she might enjoy hearing about a girl who became a well-known writer. She smiled and laughed at the appropriate places.
To change things up, the next time I read I tried a poetry book, "Peaceful Pieces: Poems and Quilts About Peace" by Anna Grossnickle Hines. My mother's caregiver and my sister loved the book as much as mom and I did. This book is appropriate for all ages. Each poem lead to a conversation about a memory it invoked, what the poem meant or how it made us feel. It was a wonderful way to connect, share, and converse. My sister said she plans to buy a copy for a friend. We even discussed how this would be an excellent adult group discussion book. Then I shared a picture book of winter photographs, "Best in Snow" by April Pulley Sayre. The winter photographs led to conversations about what mom sees in her yard — deer, squirrels, birds. Both books were definite hits and provided moments of connection.
In the future I plan to try "The Coat of Many Colors" by Dolly Parton. Parton grew up poor and shares her story about a coat her mother made for her out of rags. I thought Mom might enjoy the song of the same name that Parton wrote, so I checked out the music CD "I Believe in You" but I could also download it from Freegal. You can view a list of pictures books about music here. "Birds of a Feather: Bowerbirds and Me" by Susan Roth and "The Scraps Book: Notes from a Colorful Life" by Lois Ehlert are both books about artists/illustrators who create using collage techniques. I could also read about Henri Matisse, an artist who used paper cutouts to create collage art. "Henri's Scissors" by Jeanette Winters would be appropriate. After reading we can create our own collages. (This would have to be an in-person reading, unless her caregivers are interested in helping create collage art.)
Maybe your adult wouldn't be interested in the books I've chosen. There are plenty of interesting picture book biographies. Browse the EB section of the library. Choose a person to read about that interests you and your loved one. As another option, there are some beautifully illustrated fairy tales. Fairy Tales were originally stories told to all ages. I recommend browsing the E398.2 section. If your loved one enjoys music, try pairing a book and a song as I did with the Dolly Parton selection. There are lots of wonderful books about a variety of subjects that would be perfect to share with adults. Now if anyone ever says to you, "Picture books are only for young children" you will be able to tell them "Picture books are for everyone."