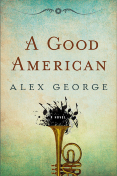 "A Good American" is about a family of German immigrants who settle in Missouri; the book follows several generations of the family circa 1900 and onward. I liked the book because I learned more about Missouri history and because it tells the story of immigrants. It was a very entertaining, absorbing, informative, moving and a richly drawn narrative. I think I would have liked to understand the main character (and narrator) better, especially as an adult.
Three words that describe this book: historical, colorful, moving
You might want to pick this book up if: You want to learn more about Missouri's immigration history.
-Anonymous