Editor's note: This reader review was submitted as part of Adult Summer Reading. We will be sharing more throughout the rest of the year.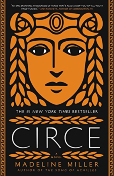 In the novel Circe, author Madeline Miller takes a character who was once a few lines in the Odyssey, and creates a swirling, beautiful, heartbreaking novel that shows Circe in full bloom. Circe is a goddess, banished to a deserted island for her use of magic. She grows up alone, creating a life for herself, growing plants, herding other banished women, and raising her son with Odysseus, who visits and decides to stay a while. The novel covers hundreds of years, but manages to be a page-turner, speaks of unchanging gods and ever-growing mortals, and is absolutely perfect.
Three words that describe this book: Surprising, magical, down-to-earth
You might want to pick this book up if: Everyone should read this. Classics readers, fantasy lovers, teens, adults who have never step foot beyond nonfiction or romance, human beings. Try the audio book, too! Circe's soft-spoken, but strong voice is perfectly captured.
-Anna