Editor's note: This reader review was submitted as part of Adult Summer Reading. We will be sharing more throughout the rest of the year.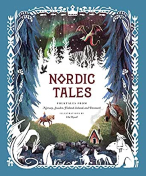 "Nordic Tales" is a collection of folktales from several Nordic countries — Norway, Sweden, Finland, Iceland, and Denmark — accompanied by beautiful illustrations of the tales. There's a mouse turning into a princess and a polar bear into a prince and a boy who feels no fear.
Some of these tales have familiar threads — after all, Hans Christian Andersen was Danish and many folk and fairy tales have similar themes. But many of these were very different from the stories I grew up reading. I greatly enjoyed them.
Three words that describe this book: fantastical, charming, traditional
You might want to pick this book up if: you love fairy tales and are looking for something beyond Hans Christian Andersen or the Grimm brothers.
-Katherine