Editor's note: This reader review was submitted as part of Adult Summer Reading. We will be sharing more throughout the year.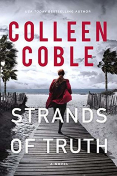 In the book "Strands of Truth," Harper, a young woman who has always longed for family, is ecstatic when a DNA test reveals she has a half-sister. When Harper and her half-sister meet they find out both of their mothers died tragically. The sisters wonder if their unknown father was involved in their mothers' deaths and they begin to investigate with the help of Ridge, the son of a mentor to Harper when she was a runaway teenager. Events from the past collide with the present in this fast-paced novel.
I liked this book because it was about the importance of family, trust, and forgiveness. The author is a master at character development and interweaving faith into her books.
Three words that describe this book: Suspenseful, Fast-paced, Intriguing
You might want to pick this book up if: you enjoy Christian romantic-suspense novels and enjoy novels that have many twists and turns until the very end.
-Anonymous