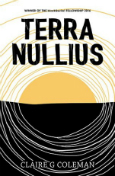 "Terra Nullius" is one of the best books I've read on the topic of colonization. Realistic multiple perspectives? Check. Accessible, concrete language? Check. Timelessness? Check. Interesting, original plot line? Check. Written by someone with skin in the game, not just a research project? Check. One of the things I most appreciated about this book was it avoided the simple "cry for the poor victims" or "rage against the oppressor" or "bear ALL the guilt" approaches — it addressed all of those things, but the aftertaste of this book is acknowledgment of the problems and HOPE for finding improvements now.
Three words that describe this book: soulful, active, hopeful
You might want to pick this book up if: You can't decide if you want to feel things or you want a fast-paced story–  have both!
-Carla