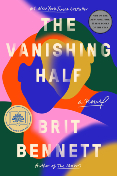 When two African American twins growing up in a small, southern town run away at the age of 16, they lose contact with each other as their lives take completely different paths. While Desiree returns to her hometown and lives in poverty, Stella pretends to be white and lives a seemingly luxurious suburban lifestyle. Told from the perspectives of both twins and their family members, "The Vanishing Half" explores the fluidity of identity and the sacrifices people make in seeking happiness. As the characters change throughout their lives, this author uses well-crafted character development to touch on issues of race, class, family dynamics and gender-fluidity.
Three words that describe this book: Thought-Provoking, Suspenseful, Eloquent
You might want to pick this book up if: You are looking for a book that will make you evaluate your own identity.
-Jonie
This reader review was submitted as part of Adult Summer Reading 2021. We will continue to share these throughout the year.