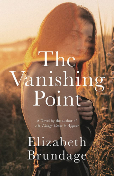 "The Vanishing Point" is the story of two couples and how their lives have been permanently altered by a secret that comes to light toward the beginning of the book. Two young men, both photography students in a prestigious program, fall in love with the same woman, Magda. One of these men, Julian, marries Magda but she never stops loving Rye. Rye marries as well, but is never quite present with his wife, Simone, a theme that is explored throughout the book. (Similarly, Julian is neglectful of and abusive toward his wife and son.) Julian and Rye both go on to live as successful photographers, but although they were roommates in college, their relationship is severed until about 20 years after they graduate, when Magda contacts Rye out of the blue. The renewed connection sparks reflections on the past as well as a mystery that the characters work to solve. Throughout the book, the characters confront the secrets of their pasts, their own troubled relationships, and, for some of the characters, personal demons. It is a compelling novel that not only explores a mystery, but also deals with trauma and addiction. It is a page-turner.
Three words that describe this book: compelling, character-driven, family conflict
You might want to pick this book up if: You like Elizabeth Brundage's other works, enjoy stories centered on women, enjoy stories about family conflict

-Sarah
This reader review was submitted as part of Adult Summer Reading. Submit your own book review here for a chance to have it featured on the Adults Blog.