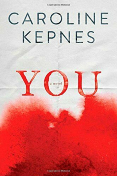 Boy sees girl. Boy likes girl. Boy stalks girl and conveniently works his way to being her ideal mate. A few snags/red flags show, and their relationship becomes toxic and fatal. I saw the Netflix series before reading the book it was based on, "You" by Caroline Kepnes, and kept saying to myself as I was reading, 'Oh, the book's version of this is better!' As it should be.
Three words that describe this book: Bone-chilling. Sexy. Addicting.
You might want to pick this book up if: You enjoyed the show on Netflix.
-Emily
This reader review was previously submitted as part of Adult Summer Reading. We will continue to share these throughout the year.