Did you know that altruism, defined as the "behavior of an animal that benefits another at its own expense," has been observed in bat populations, especially the iconic vampire bat? Vampire bats display what scientists call "reciprocity," which is a fancy term for friendship. For example, vampire bats don't just take care of other vampire bats by grooming one another and sharing food (which, sidebar, they do by regurgitating blood and spitting it on their fellow bat's face to lick up — sweet and gross!): vampire bats actually make social bonds with other specific vampire bats, forming relationships beyond kin or direct familial connection. In other words, vampire bats make and take care of friends outside of their biological family, a behavior that, until it was first documented in the 1980s, scientists thought was more exclusive to humans and other primates. It seems to me that we humans have much to learn from our bat friends, especially in the spirit of this year's Summer Reading theme, "All Together Now." So, to celebrate friendship, community and care, let's make like a bat with an adorable headband craft!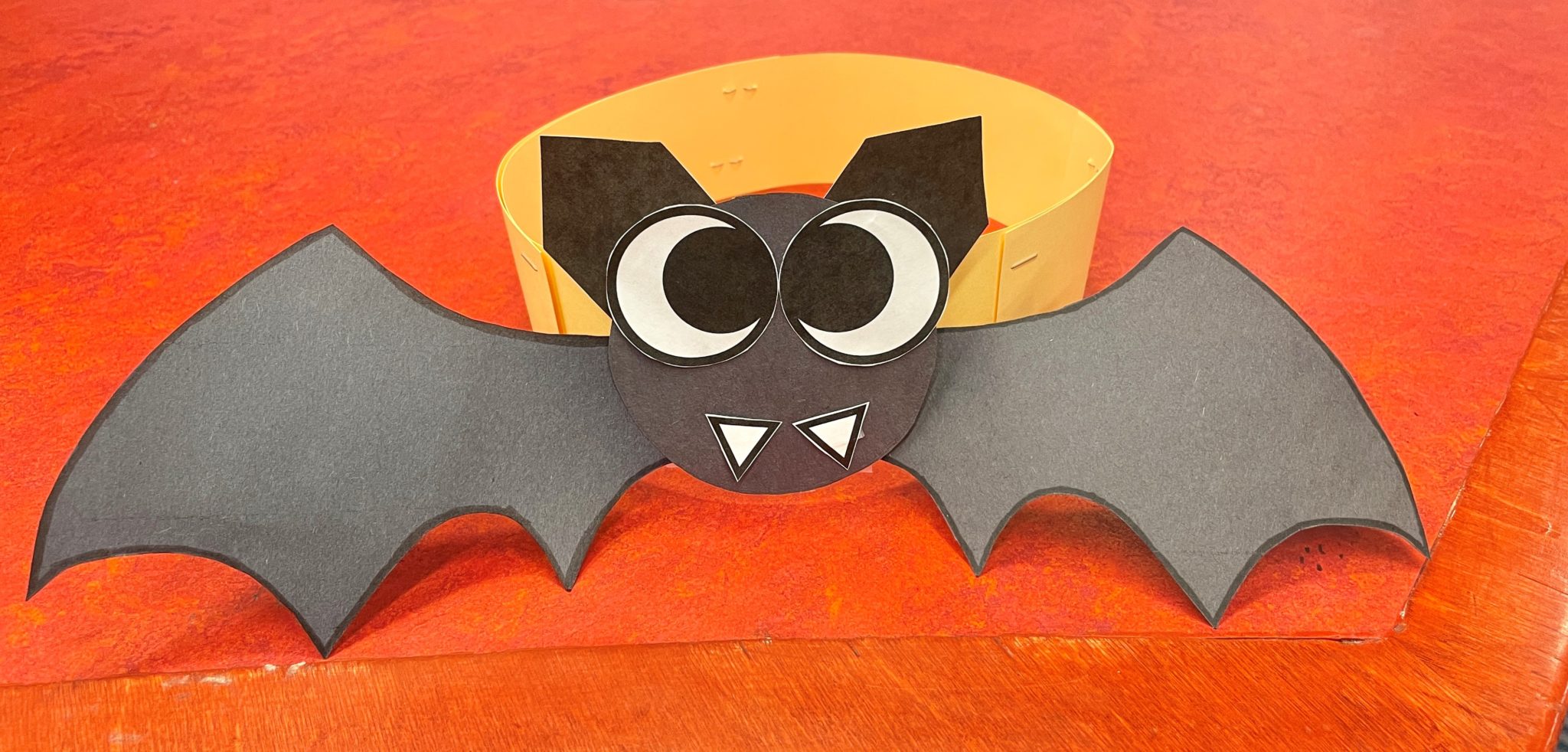 Like caring for a friend, this craft is relatively easy, low-cost and fun! I have a couple different templates available for the little black or little brown bat(s) in your life, so all you have to do is print and cut out the various bat parts and tape or glue them together on a strip of cardstock or sturdy paper that will act as the roost/headband for your bat to rest on:
Wing Tip™️: The wings in the above templates aren't colored in, so they'll take on the hue of whatever paper you use to print. You can print out the wings on white printer paper and color them in, creating a textured or multi-colored design, or you can print the wing template onto colored construction paper like I did, to create an even shade.
While I opted for the classic choice of two eyes, ears and fangs for my bat headband, there is plenty of room for unique experimentation and biological diversity in this craft! There's lots of room to play around with the placement of these important bat features, too, as a young library patron has exhibited marvelously in the following ear-less design:
Once you have your bat headband components cut out and assembled, you can make like a bat even further with the following delightful dance moves and song created by the Missouri Department of Conservation, to bring awareness to the plight of Missouri's own Little Brown Bat, which is at a heightened risk of conservation concern:
I've also got a wonderful list of nonfiction and storytime titles on bats from DBRL's collection, to keep the fun and community care going. Happy Summer Reading! I hope everyone has a bat-tastic summer, doing what bats do best: making friends, caring for their neighbors and spitting up blood! Well, maybe not that last one. 🧛