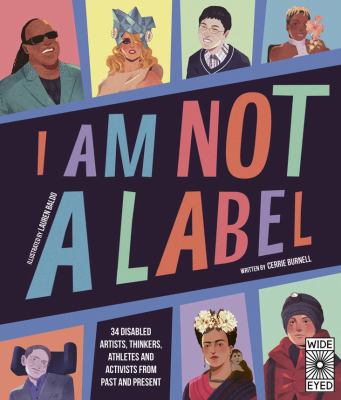 I love books! Which is great since I work in a library, but I specifically really love nonfiction books. Fiction books are a great way to escape or get lost in a story, but I have to say nonfiction books are some of my favorites. I love learning new things about the world around me and I love learning about real people just living their lives. When I picked up "I Am Not a Label" it was love at first sight. "I Am Not a Label: 34 Disabled Artists, Thinkers, Athletes and Activists from Past and Present" by Cerrie Burnell and illustrated by Lauren Baldo is a beautifully illustrated book about people from all over the world with disabilities.
Cerrie, the author, was born with one hand, and when she was a child she loved to read but none of the characters looked like her. She opens the books with a great introduction on why representation matters and that she created this book because "Everyone deserves to live in an inclusive and accessible world and feel like they belong." Each person mentioned in the book has a brief biography and an accompanying illustration that includes a depiction of the person along with a background about their lives and what made them famous. You'll likely recognize several folks like Helen Keller, Frida Kahlo and Peter Dinklage, but if you're like me, you'll find some that you've never heard of like author Eliza Suggs and breakdancer Redouan Ait Chitt!
The book also highlights mental health and hidden disabilities, differences that aren't always so obvious. For example, rapper Lil Wayne has epilepsy (a fact I didn't know until this book). The book also contains a glossary of words used throughout the work and additional resources to find out more. One of my favorite folks from the book is comedian Stella Young. She was born in Australia in the '80s (Hello! Fellow Millennial here!) and is also an older sister who loved watching tv (Again, it me). Her bio says she was just going to school and being a normal teen when her town approached her parents to see if they could give her a community achievement award. She and her family were confused because she hadn't really done anything of note, except that she was born with brittle bone disease and was confined to a wheelchair. Because many people in the town hadn't known a person in a wheelchair just living their life, they thought she was "inspirational" for existing. Since then, Stella has worked hard to normalize disabilities and make the world accessible for everyone!