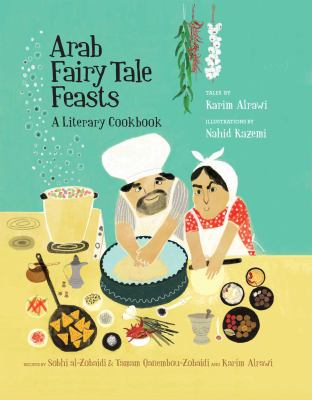 Every once in a while, you come across a fabulous cookbook or a wonderful picture book, but rarely are they one and the same! "Arab Fairy Tale Feasts: A Literary Cookbook" by Karim Alrawi is just such a book. Not only does it contain great recipes, but it also has a story to accompany each dish. The intro also gives the reader a bit of the history of cookbooks; did you know some of the earliest cookbooks date back to the tenth century and included recipes for soap?
I decided to make not one, but two, recipes for dinner! I made fattoush (zesty salad) and shish taouk (chicken kebab). Both recipes were super yummy and quick to make. (I included the directions and pictures below.) While we were waiting for the chicken to marinade, my husband and I read the stories that went along with the recipes. Our favorite was the one that went with the salad, in which a lion decides to become a vegetarian. Or does he?
If you are looking for more fun there are three more books in this series: "Fairy Tale Feasts," "Jewish Fairy Tale Feast" and "Chinese Fairy Tale Feast"
I hope you enjoy your feast and your books in hanna and shiff — or in happiness and health!
Fattoush (Zesty Salad)
Serves 2-4
Ingredients
1 head of Romaine lettuce, washed and chopped
2 tomatoes, diced
2 Persian or Lebanese cucumbers, diced (I subbed in a regular cucumber)
6 scallions, sliced
1 pita bread
Dressing
2 tablespoons extra-virgin olive oil
Juice of a lemon
¼ teaspoon salt
1 teaspoon sumac (I subbed in lemon pepper)
Topping
2 tablespoons chopped parsley
10 fresh mint leaves, coarsely chopped
In a lace salad bowl, mix together the lettuce, tomatoes, cucumbers and scallions.
Toast the pita bread in your toaster or oven until it is brown and crispy; make sure it doesn't burn! Break the toasted pita bread into bite-sized pieces and mix it into the salad.
Make the dressing by mixing the olive oil, lemon juice, salt and sumac. Pour the dressing over the salad and toss to coat everything well.
Sprinkle with the chopped mint and parsley, then serve.
Shish Taouk (Chicken Kebab)
Serves 2-4
Ingredients
2 boneless, skinless chicken breasts, cut into 2-inch cubes
2 bell peppers
1 onion
Marinade
½ cup plain yogurt
½ cup freshly squeezed lemon juice
½ cup extra-virgin olive oil
2 garlic cloves, minced
1 teaspoon ground nutmeg
1 teaspoon ground cardamom
2 teaspoons salt
1 teaspoon ground black pepper
You will also need about eight 6-inch skewers. If you use wooden ones, you'll want to soak them in water for 15 minutes before you add the chicken and veggies.
Preparation
In a large mixing bowl, mix the marinade ingredients together well. Add the chicken pieces and stir to coat them in the marinade. Refrigerate for at least 2 hours to marinate. (I only did 1 hour because I was too hungry to wait.)
Cut the bell peppers and onion into chunks roughly the same size as the chicken cubes.
Thread onto skewers, alternating pieces of chicken, peppers and onions. Be careful not to pack them too tightly. (If you don't have enough skewers or you don't want the mess, you can just put the meat and veggies on a foil or cookie sheet.)
Preheat your grill or place the skewers on an oven rack. Grill or broil for 10 to 15 minutes, turning them over once until cooked through.