Since all full time 5th grade students in Columbia Public Schools have been issued iPad Minis, we have been seeing many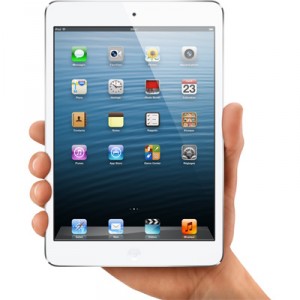 young folks using these new tablets. These iPads are not only good for schoolwork but also for accessing some great eBooks from DBRL. The library offers a wide array of electronic resources such as films, music, magazines and of course eBooks that can be accessed via devices such as iPads as long as you live in our service area. Our most popular eBook service is Overdrive. To use Overdrive on your iPad, you only need to follow these five quick and easy steps to download the app.
Install the OverDrive Media Console app on the iPad. This program allows you to search the library collection and manage the eBooks and eAudiobooks you have borrowed.
Create an OverDrive account to authorize the device. This account allows you to sync eBooks and eAudiobooks across multiple devices. You will be prompted to do this the first time you open the app.
Tap the menu button at the top left of the screen and then tap "Add a Library." The menu button is three stacked lines.
Search for "Daniel Boone Regional Library" by name, city, or postal code.
Tap on "Daniel Boone Regional Library" to be taken to our catalog of downloadable content.
Once the app is installed, you will have full access to both eBooks and eAudiobooks. If you would like your search to be limited just to children's materials, scroll down until you see an image of a snail with a book that says "eReading Room Just for Kids" and click on
the image.
Now all you need to do is download or read your eBooks in your browser and enjoy!