Thanks to all our patrons for making this summer such a memorable one. "Every Hero Has a Story" has been one of our more popular Summer Reading themes, and kids, parents and employees showed their enthusiasm at all our branches.
Below are some favorite memories from this summer. What are your favorite moments?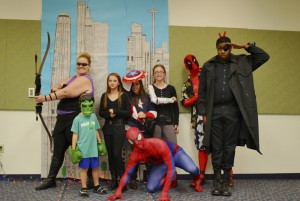 Now we're at the end of August. Winners of our ages 0-12 book sets have been called to pick up their incentives, our "At Your Library" for September through November is available for pick-up and you can check online for all of our fall programs. Summer was very adventurous for all our heroes tall and small, and we have plenty more cool programs for the rest of 2015 and beyond!