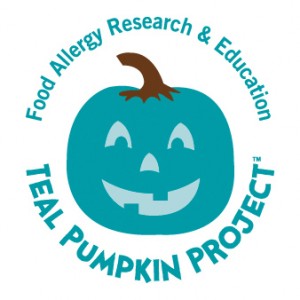 For several years now I have participated in the Teal Pumpkin Project. The Teal Pumpkin Project started in 2014 and is the brainchild of the Food and Allergy Research & Education Organization. This is a wonderful movement to make trick-or-treating on Halloween safer for children with food allergies. To do this, Teal Pumpkin Project participants have non-candy treats to give out. Houses with these allergy-safe options display a sign or a painted pumpkin to let trick-or-treaters know safe treats are available.
Not only does the Teal Pumpkin Project make Halloween safer, but it also makes it healthier. When given the choice of a treat or toy, many children will choose the toy, especially if there are a few options to choose from.  Parents are often grateful for a baby-safe option as well; something they can give to a little one in a stroller without worrying about choking or a melty mess.
Here are some non-candy treat ideas:
Pencils
Erasers
Bookmarks
Bubbles
Stickers
Glow sticks
Whistles
Temporary tattoos
Bouncy balls
Spider rings
Vampire fangs
Mini notepads
I love to hand out glowsticks. Kids have a blast with them and parents love how they make children easier to see in the dark. Whichever treat you choose, watch for choking hazards.
If you choose to offer these options, don't forget to display a Teal Pumpkin Project sign!