We asked our patrons to share what they love about their local library! We received some wonderful comments and each month we have been featuring quotes from our patrons and library staff, highlighting the things that make their buildings so special. This month is our final entry, and we are showcasing the Columbia Public Library!
I've worked at the Columbia Public library for almost eight years now, and I feel like I discover something new every day! If you visited us on a school tour, you may remember the great horned owl as you walk into the Children's section. Or maybe you remember finding the red tile on the big green Egg (what we call the Children's Programming Room)? Since you are reading this on the Teen Blog, you've probably spent some time in the teen section on the first floor or the teen graphic novel section on the second floor. We also have study rooms that you can reserve and the Quiet Reading room on the third floor if you need a place to cram during finals. Once the school year is over, don't forget we're still here for you with our Summer Reading program! Every summer you can sign up to win prizes for completing our Summer Reading challenges and we have special programs and contests all summer long! I am admittedly biased, but I think this branch is pretty great, but you don't have to take my word for it, just read the comments we got from some of our patrons!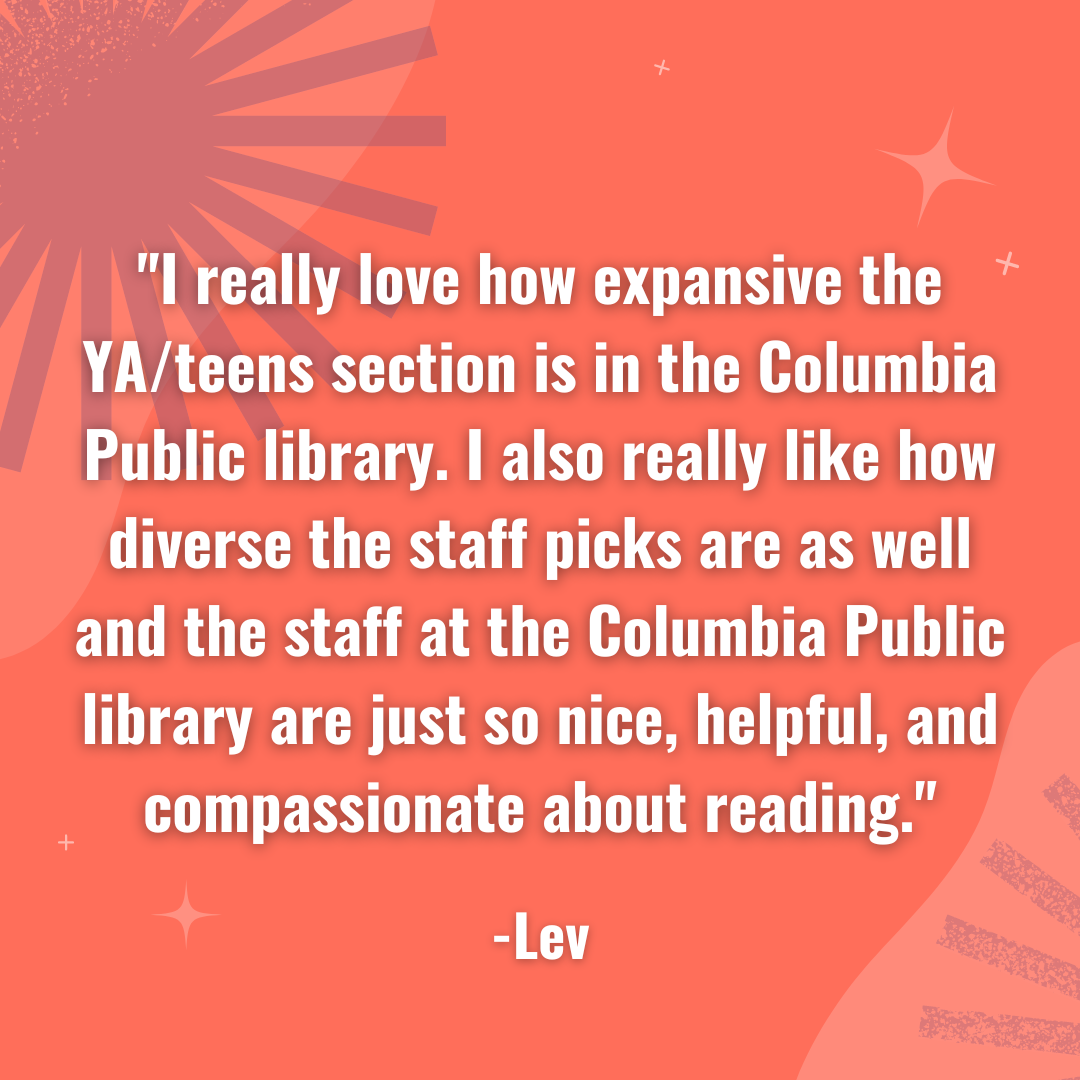 The selection of books is awesome! And the ability to request items for purchase if they aren't currently available. -Anonymous

It's very quiet, and it's better than the school library to study inside and the amount of books. -Anonymous

I love the Columbia library because of all of its free resources. My daughters love it for the 1000 books before kindergarten program and the awesome kids' area. -Cammie

The ladies in the children's section know my daughter by name and can direct her to new books in her favorite sections. -Christina

I love so many things about Daniel Boone Regional Library. It is one of those gems that makes Columbia such a great place to live. My daughter and I are both avid readers, but I can't afford to buy as many books as we read and I also don't like to keep a lot of books I know I won't read again. I am always in awe of what a wonderful selection of books DBRL has. It is rare that I hear about a book somewhere that DBRL doesn't have. And in the rare cases they don't have a book, interlibrary loan is so easy. I am not sure what I would do without the library. I am always telling people how wonderful our library is, because it is! I joke with friends that when I retire I'm probably going to have to work there for fun! -Jen

For a book nerd like me, I can't imagine life without access to a quality library (and the DBRL is high quality). Yes, of course, I love roaming a bookstore and picking out a novel to spend money on, but I read around 60 books per year and so the majority of those are sourced from a place where they are free. I also so appreciate the vast selection of audiobooks (Libby, Hoopla, Overdrive, etc.) that the library provides access to. And certainly the events the library sponsors (OneRead activities, summer and winter reading, fun things for the kids, and much more) are excellent! -Xander
Just in case you missed it, we've also featured the Callaway County Public Library in Fulton, Holts Summit Public Library and Southern Boone County Public Library.