Sunny Day
Sweepin' the clouds away
On my way to where the air is sweet
Can you tell me how to get?
How to get to Sesame Street
Welcome to the final post for my 50th anniversary series celebrating important events that took place in 1969. This last entry is near and dear to my heart, the 50th anniversary of the great show "Sesame Street!" "Sesame Street" first aired on November 10, 1969 and has since produced over 4,500 episodes. It was created to help children prepare for school. To learn more about Sesame Street check out the titles below. For a more titles, including ones for children, a more extensive list can be found in our catalog.
Books
"Street Gang: The Complete History of Sesame Street" by Michael Davis
When the first episode aired on November 10, 1969, Sesame Street revolutionized the way education was presented to children on television. It has become the longest-running children's show in history, and today reaches 8 million preschoolers on 350 PBS stations and airs in 120 countries. "Street Gang" is the compelling and often comical story of the creation and history of this media masterpiece and pop culture landmark, told with the cooperation of one of the show's co-founders, Joan Ganz Cooney. Sesame Street was born as the result of a discussion at a dinner party at Cooney's home about the poor quality of children's programming and hit the air as a big bang of creative fusion from Jim Henson and company, quickly rocketing to success. "Street Gang" traces the evolution of the show from its inspiration in the civil rights movement through its many ups and downs. Davis reveals how Sesame Street has taught millions of children not only their letters and numbers, but also cooperation and fair play, tolerance and self-respect, conflict resolution, and the importance of listening.
"Jim Henson: The Biography" by Brian Jay Jones
He was a gentle dreamer whose genial bearded visage was recognized around the world, but most people got to know him only through the iconic characters born of his fertile imagination: Kermit the Frog, Bert and Ernie, Miss Piggy, Big Bird. The Muppets made Jim Henson a household name, but they were only part of his remarkable story. This extraordinary biography — written with the generous cooperation of the Henson family — covers the full arc of Henson's all-too-brief life: from his childhood in Leland, Mississippi, through the years of burgeoning fame in Washington D.C., New York and London, to the decade of international celebrity that preceded his untimely death at the age of fifty-three. Drawing on hundreds of hours of new interviews with Jim Henson's family, friends and closest collaborators, as well as unprecedented access to private family and company archives, Brian Jay Jones explores the creation of the Muppets, Henson's contributions to Sesame Street and Saturday Night Live, and his nearly ten year campaign to bring The Muppets Show to television.
DVDs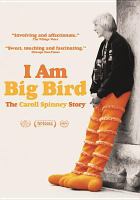 "I Am Big Bird: The Caroll Spinney Story"
For 45 years, Caroll Spinney has been beloved by generations of children as the man behind Sesame Street's Big Bird and Oscar the Grouch, and at 80 years old, he has no intention of stopping. A loving portrait of the man in the yellow suit, features extraordinary footage of Spinney's earliest collaborations with Jim Henson as it traces his journey from bullied child to childhood icon.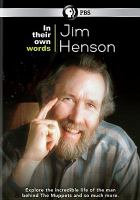 "In Their Own Words: Jim Henson"
Follow Jim Henson's career as he transcended puppetry to become one of the most creative, prolific, and influential artists of his time. Witness key events unfold in his life, from his early television work with the Muppets and is commercial work in the late 1950s and early 1960s, to his breakthrough with "Sesame Street," "The Muppet Show," "Fraggle Rock," and his groundbreaking fantasy films "Dark Crystal" and "Labyrinth."