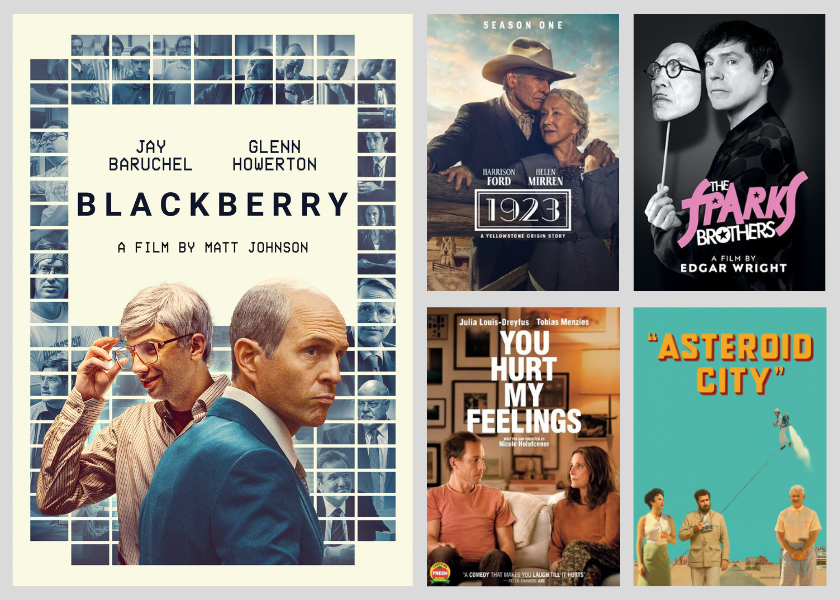 Here is a new DVD list highlighting various titles recently added to the library's collection.
"BlackBerry" – Website / Reviews 
This is a fictional account of the story of Mike Lazaridis and Jim Balsillie, the two men that charted the course of the spectacular rise and catastrophic demise of the world's first smartphone.
"1923" – Season 1 – Website / Reviews 
A prequel to "Yellowstone" and a sequel to "1883," this TV series introduces a new generation of the Dutton family as they explore the challenges of Western expansion, Prohibition, and the Great Depression.
"The Sparks Brothers" – Website / Reviews 
Edgar Wright's debut documentary is a musical odyssey through five weird and wonderful decades with brothers/bandmates Ron and Russell Mael celebrating the inspiring legacy of their band Sparks.
"You Hurt My Feelings" – Website / Reviews 
A sharply observed comedy from director Nicole Holofcener about a novelist whose long-standing marriage is suddenly upended when she overhears her husband give his honest reaction to her latest book.
"Asteroid City" – Website / Reviews 
In the latest from director Wes Anderson, world-changing events spectacularly disrupt the itinerary of a Junior Stargazer/Space Cadet convention in an American desert town circa 1955.
Other notable releases: