Editor's note: This reader review was submitted as part of Adult Summer Reading. We will be sharing more throughout the year.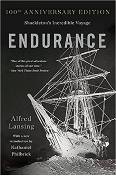 The book "Endurance" details Ernest Shackleton's doomed attempt to be the first to make a trans-Antarctic voyage. The story is true and absolutely amazing, and Shackleton's leadership is inspiring. This is, unfortunately, the only book Lansing wrote, but his writing is excellent. He really captures the misery and suffering the men with Shackleton must have experienced, as well as many details about how they survived in impossible circumstances, and uses the men's diaries to build understanding of their characters. It's a well-written, and amazing adventure book. Some photos are included too.
Three words that describe this book: Thrilling, intense, inspiring
You might want to pick this book up if: You like history, true stories, explorers, the Antarctic.
-Ruth