Here is a new DVD list highlighting various titles recently added to the library's collection.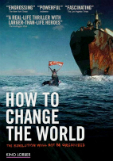 "How to Change the World"
Trailer / Website / Reviews
Playing last year at the True/False Film Fest, this film is the story of the pioneers who founded Greenpeace and defined the modern green movement. Discover how this group of like-minded and idealistic young friends in the '70s would be instrumental in altering the way we now look at the world and our place within it.
"Drunk Stoned Brilliant Dead"
Trailer / Website / Reviews
Playing at Ragtag Cinema last year, this film takes a look at the history of National Lampoon, from its beginning in the 1970s to 2010. There was no hipper, no more outrageous comedy in print than The National Lampoon, the groundbreaking humor magazine that pushed the limits of taste and acceptability — and then pushed them even harder. Continue reading "New DVD List: How to Change the World & More"