For this month's favorites, we've got elephants and dogs and bears—oh my! I couldn't resist all the animal books for our "Tails and Tales" Summer Reading theme this year, but I did throw in a few others as well. Enjoy!
Picture Books
"Those Are Not My Underpants" written by Melissa Martin and illustrated by Troy Cummings
Have you ever noticed that the word "underpants" is somehow funnier than "underwear"? Try saying it out loud to compare. Now get ready to say "underpants" approximately 34 more times, because this book has a lot of hilarious repetition! It is possible you'll get tired of saying this word, but I assure you, your kids won't get tired of listening to it. One morning Bear Cub wakes up and notices a pair of underpants hanging outside his cave. They're not labelled, and Bear Cub is determined to find their owner, so no one will have to go underpants-less. As he asks each of his friends, they all show off their own undies and demonstrate why the tighty whities in question can't be theirs. Of course the mystery is solved in the end! This is a perfect book for this year's Summer Reading theme of "Tails and Tales," as readers will get a delightful tour of the tail-ends of various forest animals.
---
"Tabitha and Fritz Trade Places" written by Katie Frawley and illustrated by Laurie Stansfield
I love when picture books are full of learning opportunities! This book is chock full of descriptive adjectives and is written in an epistolary format. Tabitha is a house cat who is feeling stifled by her suburban lifestyle, and Fritz is an African elephant who is longing for a break from life in his herd. They find each other on "Lair-BNB," agree to swap homes, and write messages to each other about their experiences. While both get to try exciting new things, they also discover that the grass isn't always greener on the other side of the world and return home with a new appreciation for life. The illustrations are vibrant and joyful, and give important visual clues to the story that sometimes contradict the text itself. This is an especially great choice for young readers intrigued by travel.
---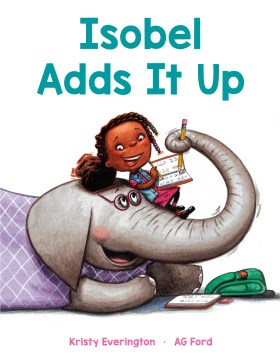 "Isobel Adds It Up" by Kristy Everington and A.G. Ford
Time for another elephant book! Isobel is a little girl who loves math. She adores numbers and the way they make sense to her and always happily settles in to work on her math homework. When some new neighbors move in next door, it becomes a lot harder to focus on math. The neighbors are noisy! Are they a basketball team or maybe a marching band? At first Isobel tries to get back at them by playing her own music as loudly as she can. When that doesn't work, she bakes cookies and leaves them with a note requesting the neighbors be more quiet. Not only does this work, but Isobel finds a new friend and math study buddy! I love that this book models a girl who loves math and learns to communicate her needs calmly and reasonably. Problem-solving all around!
---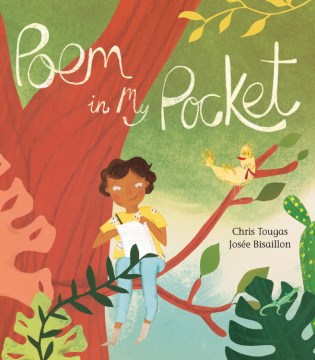 "Poem in My Pocket" written by Chris Tougas and illustrated by Josée Bisaillon
If the last book was a celebration of math, this book is a celebration of the creative process of writing. A young poet has written a poem and stuffed it in their pocket. Unfortunately, the words of the poem fall out of a hole in the pocket and are whisked away by the wind. The words and letters scramble and rearrange to form puns and rhymes, and just as the poet is about to catch them again, a storm hits. Any hope of reconstructing the poem vanishes, as the words sink into the muddy ground. But what grows from these planted words might just be even more magical than the original poem.
---
Chapter Books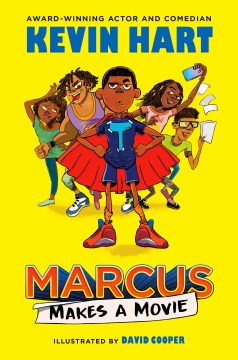 "Marcus Makes a Movie" by Kevin Hart and Geoff Rodkey, and illustrated by David Cooper
Here's another look at the creative process, this time of movie making! Marcus loves making comics, and they prove to be an effective way to work through stress and grief in his life. When he reluctantly enrolls in an after-school film-making club, he decides to create a movie featuring his comic book character. To do so, he'll need to learn to work as part of a team, as there's a lot that needs to happen behind the camera to make a movie happen. As one would expect from comedian Kevin Hart, this book is filled with hilarious dialogue and perfect comedic timing, but it also centers a loving relationship between Marcus and his widower father, in which they're not afraid to talk about their emotions. Young fans of Kevin Hart will be eager to pick this up, but I imagine it will have a broad appeal. Sidenote: Kevin Hart reads the audiobook and it is positively delightful. Check it out with the physical copy for the full experience, and as a way to reinforce reading skills as kids listen and follow along.
---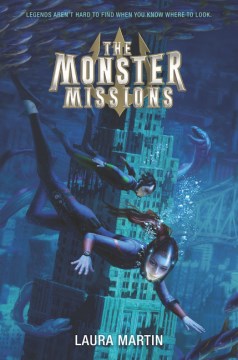 "The Monster Missions" by Laura Martin
If you want an action-packed adventure story, this is it! Fifty years ago, all the waters in the world rose, and turned Earth into a planet of only oceans. Now many people make a living by scavenging items from submerged cities, diving deep into dangerous waters. Berkley and Garth live on an abandoned cruise ship with other divers and accidentally discover a huge Hydra that does not take kindly to being awakened. The two preteens join a research team that studies sea creatures long thought extinct or mythical, and the action doesn't stop as they encounter monster after monster. Bring this summer read to the beach if you dare!
---
"The Ship of Stolen Words" by Fran Wilde
I love portal fantasies. I love the idea that at any moment we could stumble into a magical world! In this book, that world is populated by goblins. Sam is used to getting out of difficult situations with a quick "sorry." Yet when he runs into a mysterious old woman, he finds that he's no longer able to use his magic word. Even when he finds himself genuinely wanting to apologize after unkind remarks to his best friend, he's physically unable to speak or write the words. When Sam sets out to recover his missing sorry, he discovers a world full of goblins who steal overused words. These stolen words are converted into hot air to power their machines and ships, and I've gotta say, that is such a fascinating concept! Sam teams up with a young goblin and they attempt to reclaim his sorry, but quickly realize there are even larger problems facing them.
---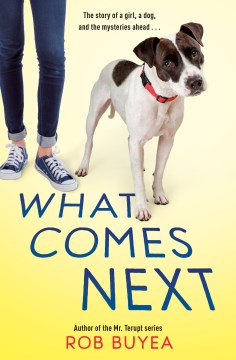 "What Comes Next" by Rob Buyea
When sixth-grader Thea witnesses the death of her friend, she stops speaking and retreats into herself. Hoping for a fresh start, her family moves to a new town, but Thea's silence and nightmares continue. Eventually they decide to adopt a rescue dog, and Jack-Jack chooses Thea at the shelter, instead of the other way around. Jack-Jack is incredibly loving and comforting, and Thea's nightmares go away when he starts sleeping on her bed. She begins to awaken to her old self, and starts to open up to people again. This is a rescue dog story with a warm and supportive community, and it will be a wonderful pick for fans of the author's "Mr. Terupt" books.