Fall and early winter usually means reading a lot of holiday books. If you're ready for a break from pumpkins and turkeys and trees, try a few of these new books we just got in!
Picture Books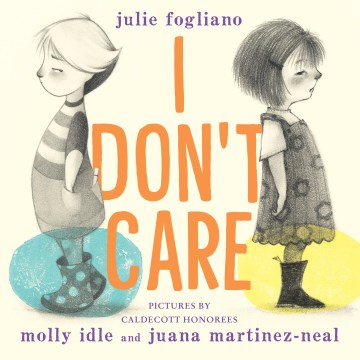 "I Don't Care" written by Julie Fogliano and illustrated by Molly Idle and Juana Martinez-Neal
This is a book about friendship, illustrated by two real life besties. Two friends, standing back-to-back, state all the things they don't care about, as the book opens with "I really don't care what you think of my hair / or my eyes or my toes or my nose." They continue to list superficial things they don't care about, like a preference for polka dots or florals, or what each has for lunch. Slowly the text shifts to the things the friends do care about like sharing, honesty and loyalty. "I really do care about all of that stuff / I really do care a lot." The text is expertly written, with a solid rhyme scheme and a rhythm that never falters. The illustrations by the two artists are perfect, as the two friends play separately then together on the page. More friendship books are always a good thing, and this one stands out from the crowd.
---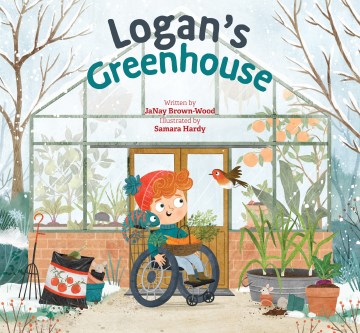 "Logan's Greenhouse" written by JaNay Brown-Wood and illustrated by Samara Hardy
Logan and his pet chameleon are looking forward to a play date with friends and their pets. He wants to prepare a snack for them, and settles on carrots as the best option. Now he just needs to find one in his greenhouse! The author provides various clues about carrots, as Logan finds other fruits and veggies that aren't quite what he's looking for. In the process, readers will learn all about interesting produce like beets, garlic, brussels sprouts and leeks. There's a recipe for carrot soup at the end of the book, and it's refreshing to see a protagonist in a wheelchair when the book isn't centered around disability. Delicious winter gardening fun!
---
Chapter Books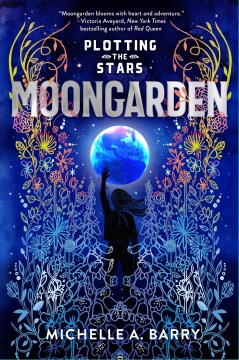 "Moongarden" by Michelle Barry 
When all the plants on Earth turned deadly, survivors were forced to flee to other planets. The government manufactures food, but by 2448 shortages are starting to occur. Myra is starting her first year at an elite boarding school on the Moon. Her parents are famous mathematicians, and though everyone expects Myra to follow in their footsteps, she has no passion for math. Myra frequently skips class to explore the school, and discovers a hidden garden beyond an unused classroom. Plants have been forbidden for centuries, ever since they destroyed Earth, but Myra feels inexplicably drawn to them. By cultivating her new garden and talent, Myra might uncover more than government officials want her to know. Science fiction at its best, this is the first in a series inspired by "The Secret Garden" but will be enjoyed even without any knowledge of the original. Though it might be fun to watch one of the versions of the movie after you read it, to compare!
---
"Swift and Hawk: Cyberspies" by Logan Macx
Caleb and Zenobia are best friends who attend an accelerated school for tech geniuses. Caleb enjoys programming and AI, while Zenobia specializes in engineering and robotics. When Caleb's widowed mother is abducted by mysterious strangers, Caleb and Zen begin to investigate. More family members of tech-talented kids disappear, and Caleb and Zen are recruited into the Möbius Program at their school. They're given the code names Swift and Hawk, along with a mission that will lead them across Europe in pursuit of the kidnappers. With high stakes, high-powered tech and an easy and believable friendship between the protagonists, this spy story will have readers eager for the next installment.