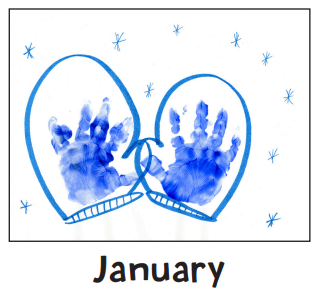 2021, it's been fun, but we're ready for the new 2022!
Celebrate the new year by printing off a handy-dandy handprint calendar (on cardstock) to decorate with the little ones in your life. These calendars make great gifts for family or special keepsakes to record milestones and accomplishments in 2022. 
To prepare, gather the materials you have at home:
Paint

Non-toxic stamp pads

Crayons

Markers

Stickers
You'll want to be near a sink and have plenty of wet wipes if you'll be using paint or stamp pads. We recommend planning on working on this project over multiple short sessions — especially if you'll be using paint and need time to let each page dry.
We've provided you with instructions to create your handprint calendars, but feel free to switch it up! Maybe one month is really heavy on birthdays, so you make a cake for that month, or perhaps you celebrate your dog's gotcha month! If you need a spark of creativity, check out this hand and footprint Pinterest board. Regardless of what you and your children choose to do, you're guaranteed to come up with a totally unique work of art to treasure forever.