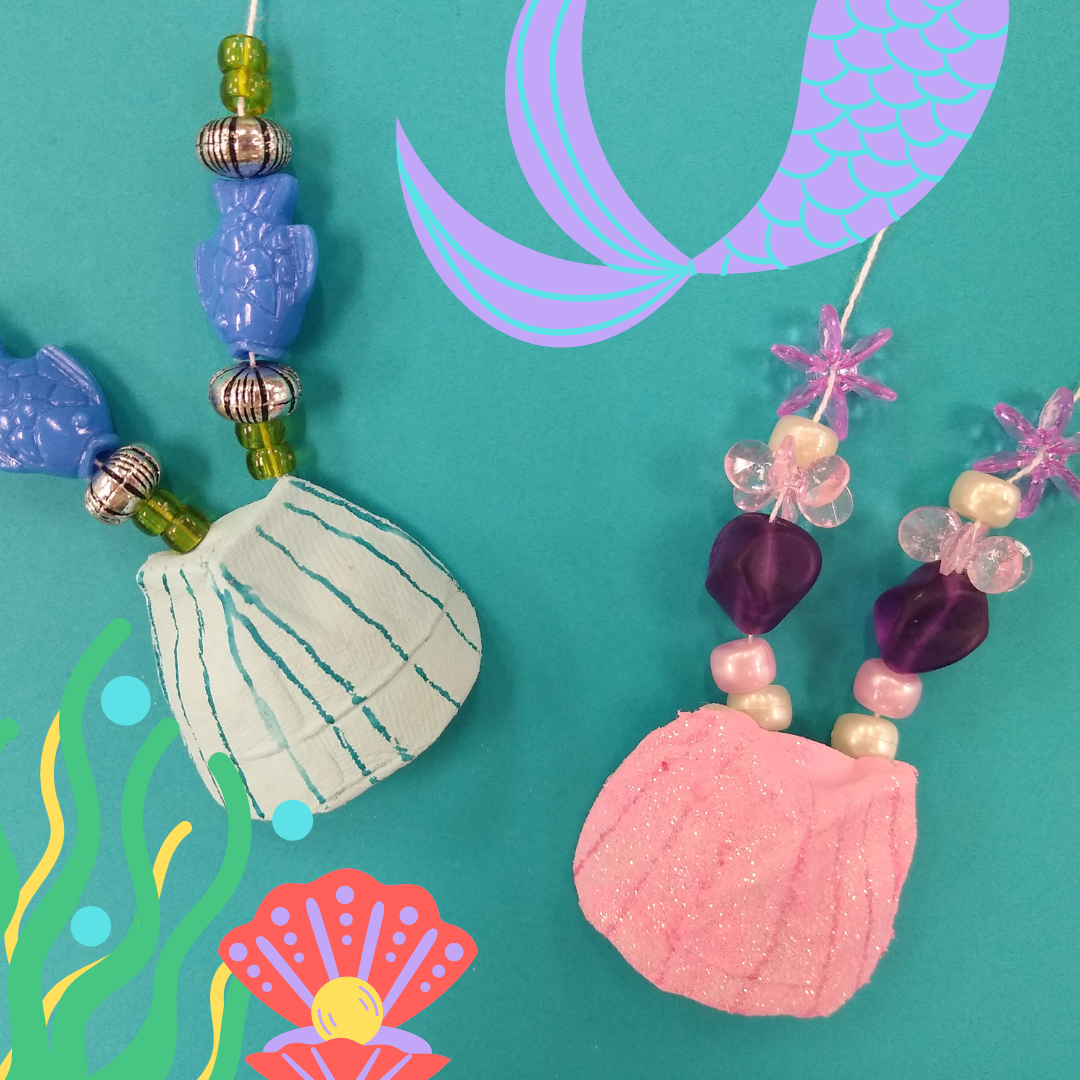 This year's summer reading theme "Oceans of Possibilities" has us dreaming of undersea adventures. Who among us hasn't wished for gills and a tail after a long day of water play? Support creativity and imaginative summer play with this easy and endlessly customizable merperson necklace. Magical seashells are certainly hard to come by in landlocked central Missouri, so recycling an egg carton will save you a trip to the beach — and help keep some trash out of our waterways while you're at it!
You'll need: 
Clean cardboard egg carton 

Pony beads (you can also cut a plastic straw down to the same size) 

Other beads (wooden or plastic beads, sequins, even dry noodles!) 

Thin ribbon, cord or string

Scissors 

Pencil

Acrylic or tempera paint and paint brushes

Markers

Hot glue gun and glue 

Optional but highly encouraged: glitter!
Directions:
Cut the egg carton in half to separate the lid from the cups at the bottom.
Cut halfway through one of the rows of cups. Then cut to separate the cups.
Use a pencil to carefully sketch a shell shape on one of the cups. Trim off the excess.
Draw a wavy line or a curve across the bottom and trim off the excess. Now that cardboard carton looks a liiittle more like a sparkling shell!
Cover your workspace and protect your clothes, then get ready to paint! I decided to use pastels to make my shell look more realistic, but follow your merperson heart to decide what color your shell should be.
Once your shell is dry, use a marker to add lines of texture. Now is also a good time to incorporate some sparkle, if you wish!
Ask an adult to fire up the hot glue gun and carefully glue a pony bead to the back of your shell. The holes should face out to the sides so that you can easily slip your shell onto a necklace.
Cut a length of ribbon, cord or string. Two to three feet should be long enough to easily slip over your head, depending on how long you want your necklace to be.
Once the hot glue is dry, it's time to start assembling your necklace! I started by threading my shell into the middle of the string, then added beads to create a pattern on both sides of the shell. Some of your precious beads will try to hide behind the shell once you put your necklace on, so I recommend starting your pattern with two or three plain pony beads on both sides of the shell before you begin placing your beautiful beadwork. You can also go ENTIRELY recycled with this craft! Put the rest of that egg carton to good use and experiment with cutting out different shapes to use as beads.
Once you're satisfied with your new merperson necklace, tie the ends together or attach a clasp and get ready to embark on your next imaginary undersea adventure! Please note that cardboard shells will magically dissolve into soggy nothingness if worn in water. It's best to only wear your merperson necklace on dry land.