"How inappropriate to call this planet Earth, when clearly it is Ocean." – science fiction writer Arthur C. Clarke
We may be landlocked here in Missouri, but did you know that over one-third of the world's entire population lives near a coastline? As we dive into our summer reading program Oceans of Possibilities, I wanted to explore the the shores and seas so many people around the world call home. In compiling this list, I looked for picture books with a strong sense of place which showcase a variety of distinct cultures of those who live by the sea. From South Korea to Canada, let's set sail!
---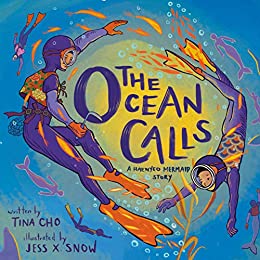 On the island province of Jeju in South Korea, courageous women known as haenyeo have honed their freediving skills and learned to live in sync with the local marine life for generations. "The Ocean Calls" by Tina Cho introduces this UNESCO-recognized cultural tradition through a sweet story of determination and intergenerational cooperation. Dayeon hopes to follow in her grandmother's footsteps by becoming a "treasure-hunting mermaid," but a bad experience while learning to swim makes her hesitant to dive deep beneath the waves. Armed with a snorkel and a belly full of abalone porridge, Dayeon is finally ready to dive again with Grandma by her side! Illustrations in orange, blue and violet depict the urchins, abalone and other ocean treasures awaiting the divers on the sea floor, while fascinating backmatter further details the endangered haenyeo lifestyle.
---
"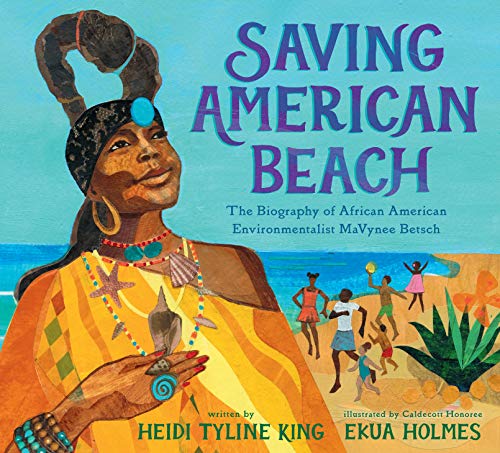 Saving American Beach" by Heidi Tyline King brings us closer to home (Amelia Island, Florida, to be exact) and tells the little-known life story of Black environmentalist MaVynee Betsch. American Beach on Amelia Island was a rare refuge for Black people to enjoy the seashore, free from the restrictions of Jim Crow-era segregation. When the Civil Rights Act passed in 1964, other options for recreation finally opened up to Black vacationers. But MaVynee couldn't bear to see the beloved beach of her childhood fall into obscurity, polluted and forgotten. She dedicated the rest of her life to environmental causes and preserving the important history of American Beach, now protected by the National Park Service. I thoroughly enjoyed poring over the detailed mixed-media collages by Caldecott honoree Ekua Holmes depicting "the Beach Lady's" iconic seven-foot-long hair and richly colored kaftans adorned with seashells and protest pins. MaVynee Betsch is truly a ocean hero to know!
---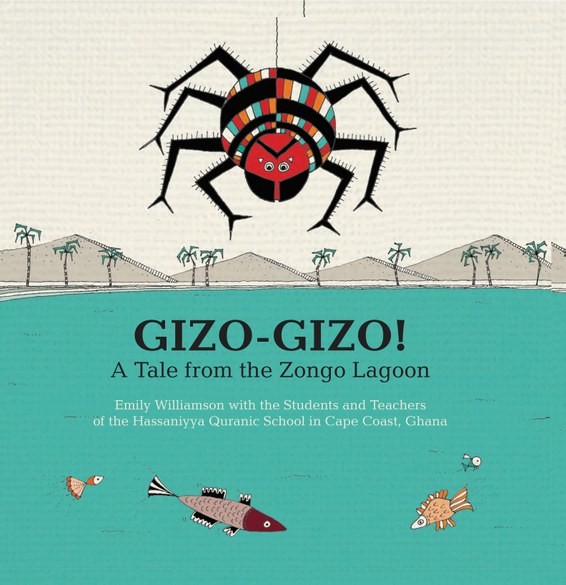 Gizo the trickster spider is a common figure in folklore from across West and Central Africa, and "Gizo-Gizo! A Tale From the Zongo Lagoon" spins a modern take on this oral tradition. While contributing a water sanitation project in the seaside city of Cape Coast, Ghana, author Emily Williamson developed the Zongo Story Project to promote literacy skills and give a voice to African stories. When local students told her about a mining company which polluted the local water supply, Williamson knew this was an important story to tell. Written with the help of these students and inspired by traditional folklore, "Gizo-Gizo!" reminds readers of the environmental fallout of carelessness and greed. After all, in the wise words of the reformed spider Gizo, our waterways "belong to no one and everyone at the same time. It takes only one day to destroy it and many, many days to restore it."
---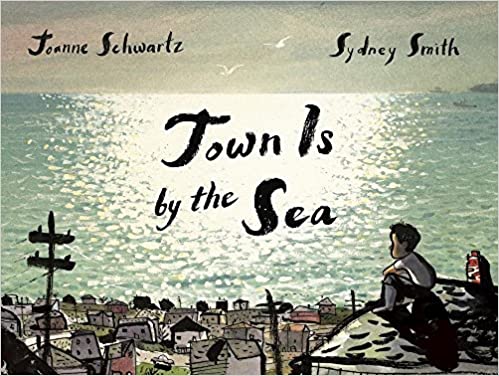 I love an understated picture book which says so much with so little, and "Town Is by the Sea" by Joanne Schwartz is definitely one of my new favorites. This day-in-the-life story is an ode to a small-town childhood in 1950s Cape Breton, Nova Scotia. A young boy wakes up to the sound of seagulls, plays on a run-down swing set with his best friend and pays a visit to his grandfather's cliffside grave. All the while, his father is on his mind, hard at work deep in the undersea coal mines. Sparkling ocean views are in stark opposition to the pitch-black tunnels, small miners with headlamps and pick axes squashed at the bottom of the page beneath a dark expanse of rock and sea. Not much happens in this simple book, but readers are left with the impression that this idyllic childhood will come to a quick close as the boy prepares to follow in his father's dangerous footsteps. Children will enjoy the unique illustrations and repetitious prose, while grown-ups will appreciate the story's somber message.
---
My last pick is a simple, beautifully illustrated tale set in a Vietnamese fishing village, perfect for sharing as a bedtime story. "In a Village by the Sea" by Muon Van depicts a day in the life of a family in this quaint seaside village. The father loads up his brightly-painted boat and heads out to sea, the mother cooks a steaming pot of noodle soup and the family dog checks in on the sleeping baby. All the while, there's a clever surprise hard at work beneath the floorboards — but I won't spoil it for you! Inspired by the author's own ancestors, this book is just full of life and love. From the freshly chopped vegetables on the kitchen table to the sweet dog's chocolate brown eyes, the lifelike illustrations filled me with warmth. Cozy up with your little one and let this book transport you to a lovely little home on the cliffs of Vietnam.
Don't sail away just yet! Check out the entire booklist: Oceans Around the World.