Welcome to another entry for our 50th anniversary series f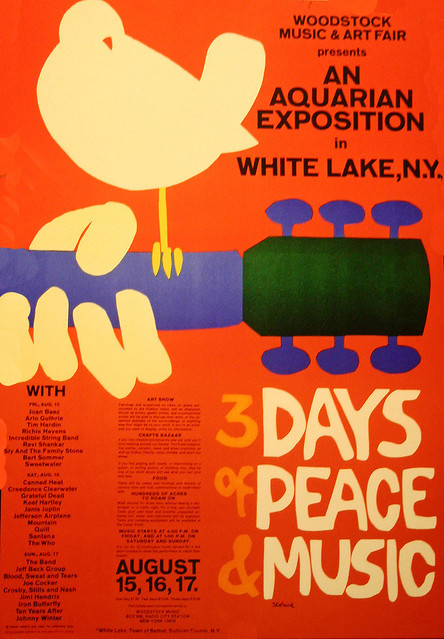 ocusing on important events that happened in 1969.
Woodstock was a music and art fair held in Bethel, New York on August 15-18, 1969. Around 500,000 people attended and 32 bands and singers performed. Several major bands and singer that performed there including: Santana, Grateful Dead, Creedence Clearwater Revival, Janis Joplin, The Who, Jefferson Airplane, Joe Crocker and Jimi Hendrix. For more suggestions on library materials about Woodstock check out this list.
Books
"Woodstock 50th Anniversary: Back to Yasgur's Farm" by Mike Greenblatt
The year was 1969. Richard Nixon was in the White House. Neil Armstrong was on the Moon. And revolution was in the air. In that backdrop, 500,000 young people gathered on a mid-August weekend in upstate New York for the promise of three days of peace and music. What they experienced at the Woodstock Music and Art Fair was something far greater. Celebrating "the greatest peaceful event in history," "Woodstock 50th Anniversary" offers a dazzlingly and compelling front-row seat to the most important concert in rock history, an implausible happening filled with trials and triumphs that defined a generation.
"50 Years: The Story of Woodstock Live: Relive the Magic, Artist by Artist" by Julien Bitoun
3 days. 33 concerts. 2 deaths. 2 births. 500,000 people. And another 250,000 stuck in traffic trying to get in. Woodstock was a festival like no other. Now, on its 50th anniversary, relive every moment. Detailed text and evocative photographs tell the full story of every single act that performed- when they took the stage, what songs they played, who was there, what they were like. From The Who to Hendrix, Jefferson Airplane to Creedence Clearwater Revival, every single second is an experience to enjoy over and over again.
DVDs
"Woodstock: Three Days That Defied A Generation"
Website/Reviews
In August 1969, nearly half a million people gathered at a farm in upstate New York to hear music. What happened over the next three days, however, was far more than a concert. It would become a legendary event, one that would define a generation and mark the end of one of the most turbulent decades in modern history. Occurring just weeks after an American set foot on the moon, the Woodstock music festival took place against a backdrop of a nation in conflict over sexual politics, civil rights and the Vietnam War. A sense of an America in transition — a handoff of the country between generations with far different values and ideals — was tangibly present at what promoters billed as "An Aquarian Exposition: 3 Days of Peace and Music."
"Creating Woodstock"
Website/Reviews
For three days in August 1969, nearly a half-million young people descended upon Max Yasgur's farm in upstate New York for the rock 'n' roll event that defined a generation. Mythologized for 50 years, the filmmakers set the record straight with the most comprehensive examination of how the festival came to be using original interviews with key figures, rare archival footage and unearthed photographs.
CDs
"Woodstock: Back to the Garden" by Various Artists
"Live at Woodstock" by Creedence Clearwater Revival
Image credit: David, Woodstock Music Festival/1969 via flickr (license)