Here I am in the Midwest as I continue my grand adventure in reading across the country. This may be one of the largest regions I cover. 
After leaving North Dakota, I'm now traveling into Minnesota with "The Lager Queen of Minnesota" by Ryan Stradal. This one just looks fun. It's a family drama of multiple generations of strong mid-western women trying to carve out a new existence in what is often considered a man's domain: beer. I have several friends and family that work in the beer industry so this one strikes a sense of familiarity but beer is really just the backdrop to the family crisis of a farm family's loss and reinvention.
The road now takes me to Wisconsin with Ellen Raskin's "The Westing Game." Everyone loves a good mystery and this one is a classic. Sam Westing is an eccentric millionaire. He's also dead. But that doesn't keep him from playing one last game with a cast of potential heirs, and perhaps they will catch his murderer as well as inheriting his fortune. As a middle grade mystery, this book also counts for of the 2021 Read Harder Challenge task #9.
Pulitzer-winning newspaperman, Art Cullen, writing for a tiny Iowa twice-weekly, took on big corporate agribusiness for poisoning the local rivers and lake. His book, "Storm Lake: A Chronicle of Change, Resilience, and Hope from a Heartland Newspaper," describes the changes he has seen over his career in a farming and meatpacking town of 15,000 in Northwest Iowa. He touches on the themes of politics, agriculture, the environment and immigration.  
The road now brings me back around to home for a minute with "Tangled Roots" by Carolyn Paul Branch. The story is about Rose Carter, who left home but is drawn back when her life falls apart. She goes back to the family cabin which is supposed to be abandoned, but it's not. There are secrets buried there that are threatened to be revealed. Carolyn is one of our library associates at the Callaway County Library in Fulton and has written 10 books, mostly local and family history. This, her first fiction, is a mystery set among the small towns and bluffs of Missouri. One of the locations featured in the book is the Renz Women's Penitentiary, which is that crazy looking building that was built in 1927 and abandoned after major flooding in the Great Flood of 1993. Renz has also been featured in the online publication of the "Atlas Obscura."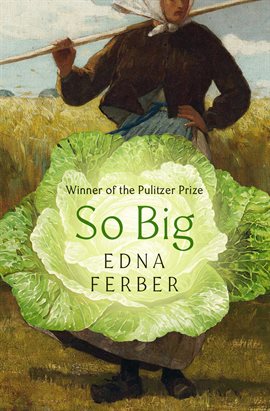 Now I come to Illinois, and I'm reaching back to a classic originally published in 1924: "So Big" by Edna Ferber. Selina Peake is orphaned at the age of 19 in the 1880s and has to find a way to support herself. She leaves the city to become a teacher in a small farming community and becomes fascinated by farming. She pushes barriers by stepping away from "women's roles" and dares to engage the men directly about best practices in farming. When she marries a farmer, she offers suggestions for improvement but he ignores her. This book was the number-one bestseller of its day and won one of the very first Pulitzer Prizes for a novel.
My choice for Indiana is a sweet young adult book: "You Should See Me in a Crown" by Leah Johnson. Liz Lightning is a super awkward band geek who dreams of attending the elite Pennington College to play in their prestigious orchestra and study to become a doctor. When she doesn't get the scholarship she needs to be able to afford college, her friends come to the rescue and campaign for her to run for homecoming queen in order to get the associated scholarship. Liz is definitely NOT the typical prom queen and learns a lot about her school, her community, politics and herself in the process. This is another title that is doing double duty for me with the Read Harder Challenge for task #17, an own voices YA book with a Black main character that isn't about Black pain.
My travels through Michigan take me to Sault Ste. Marie and a thrilling story of a young girl, Daunis Fontaine, who is part white and part Ojibwe, as she tries to find acceptance in her identity and help her community during a spate of disappearances and murders. "The Firekeeper's Daughter" by Angeline Boulley, is a highly acclaimed debut novel. Daunis is eventually approached by the FBI to become an informant and she has to wrestle with how best to serve and protect both her friends and family as well as her own life. And, once again, I have picked a book that will also satisfy one of the Read Harder tasks: task #5, a genre novel by an Indigenous, First Nations or Native American author.
I have never been there in real life but I have a hard time thinking about Ohio without thinking about Kent State. I was very young so this was a little before my time, but I had older siblings that were very aware and I guess that seeped down to me. Derf Backderf (who's real name is John Backderf) released the graphic novel "Kent State" timed for the 50th anniversary of the shooting of college students by the Ohio National Guard during a Vietnam War protest. On May 4, 1970, four students were killed and nine others shot and wounded in a barrage of gunfire. I really appreciate the graphic format for addressing difficult topics.
You can find more suggested titles for a Midwest adventure here. You can also find past posts in this series at Travel Through Story: The Deep South, Travel Through Story: The Southwest, Travel Through Story: The Pacific Northwest with Alaska and Hawaii, Travel Through Story: The Rocky Mountains and Travel Through Story: The Great Plains.
Well, it's time for me to get a move on now. Next month, my journey through these somewhat United States will continue with the "Megalopolis" region on the eastern seaboard including Washington DC.