The Sunday after Labor Day is recognized nationally as Grandparents' Day. Maybe your family celebrated the grands in your life with Sunday brunch, or maybe your school put on a Grandparents' Day celebration. Or perhaps this day quietly slipped you by. Maybe your kiddos lost their grandparents too soon or perhaps outside factors have led to strained relationships. Nevertheless, instilling an appreciation for the older members of our families and communities in the next generation is essential for the future health of our society. And when elders create connections with the young people in their lives, both groups are statistically proven to lead healthier, happier lives. In celebration of intergenerational relationships and everything elders bring to our children's lives, I've put together a simply GRAND collection of picture books to share with all ages!
---
In adorable colored pencil drawings, "Grandpa Across the Ocean" by Hyewon Yum chronicles a young boy's journey to South Korea. But upon meeting his grandfather for the first time, Grandpa seems like an absolute stranger. He serves stinky food, falls asleep while watching the news, talks in a strange language and worst of all, he doesn't have ANY toys at his house! A mishap involving a potted orchid has the boy preparing for the worst, but Grandpa's hidden warmth shines through instead. Soon, the unlikely pair are exploring South Korea and finding they had more in common than they ever thought possible. Along with my children's team duties, I also work in the library's passport office, and I recently got to share in a family's excitement of applying for their little one's first passport in preparation to meet his grandparents overseas. I just HAD to tell them about this sweet book I found that fit their situation perfectly! There's no better feeling than finding the perfect book for a child, and "Grandpa Across the Ocean" will definitely be a new favorite for families looking to bridge cultural gaps and language barriers and embrace the surprising adventures to be had with an elderly loved one.
---
Raise your hand if you've ever received a slightly disappointing gift from a loved one. I'll go first: one year for my birthday, my granddad gifted me a presidential coin collection! What's a twelve-year-old to do with a presidential coin collection, you ask? Well, "When Grandpa Gives You a Toolbox" by Jamie L.B. Deenihan might have some ideas. It's important to practice patience as Grandpa explains all the tools in painstaking detail and shows off photos of his building projects over the years. But then what? Should you tie the unsolicited gift to a wrecking ball? Hmm, probably a bad idea. Should you launch it into outer space? DEFINITELY not! What begins as a silly bid to forget about an unwanted toolbox turns into a boy's eventual acceptance of the gift and a newfound love of building with Grandpa. The companion book "When Grandma Gives You a Lemon Tree" is equally heartwarming, but the special relationship between grandparent and grandchild is featured more prominently in this pick.
---
I'm an absolute sucker for picture books with a woodland setting. Add a sweet grandmother and a lesson in mindfulness, and I'm sold! "My Mindful Walk With Grandma" by Sheri Mabry encourages excitable kiddos to take life a little slower, and who better to demonstrate this important lesson than an older loved one? Every spring, a young girl and her grandmother take a hike to see if the loons have returned to the lake after a long winter away. Along the trail, while the girl splashes in mud puddles and scrambles across rocks, Grandma takes a slower approach. And when the girl's loon call doesn't sound quite right, Grandma's reassurance helps her to relax, dig deep and try again. Cultivate some mindfulness of your own by spending a little extra time in the pages of this book with a loved one, poring over the sun-soaked illustrations and looking out for hidden forest creatures. This story reminded me of my beloved granny's gentle presence and love of nature. We lost her when I was young, but she continues to inspire me. Life moves fast, but it never hurts to take a cue from our elders to slow down and notice all the wonder and love in the world around us!
---
I think it's important to acknowledge that not every kid's relationship with their grandparents is all cookie baking and trips to the park. As a child who didn't have the best relationship with a couple of my grandparents, I remember just how tough it was to feel disconnected from the elders I looked up to. I searched high and low for the perfect picture book which speaks to this difficult experience, and "Grandpa's Top Threes" by Wendy Meddour hit all the right notes for me. With his scraggly beard, stompy black boots and tendency to speak in grunts, Henry's grandpa seems pretty unapproachable. Henry is desperate for Grandpa's attention and full of questions for Mom about Grandpa's unusual habits. "Just give him time," Mom advises, "Ask him if he'd like a sandwich." Precocious Henry sees an opportunity for engagement, and soon the pair are trading in top threes, from sandwiches to jellyfish to zoo animals. This simple conversation starter can help kiddos relate to difficult-to-love loved ones or even those with memory issues. While these conversations might not culminate in a big, top-three day out like Henry and Grandpa's, readers are ultimately left with the message that even the simplest forms of communication can lead to pleasantly surprising connections.
---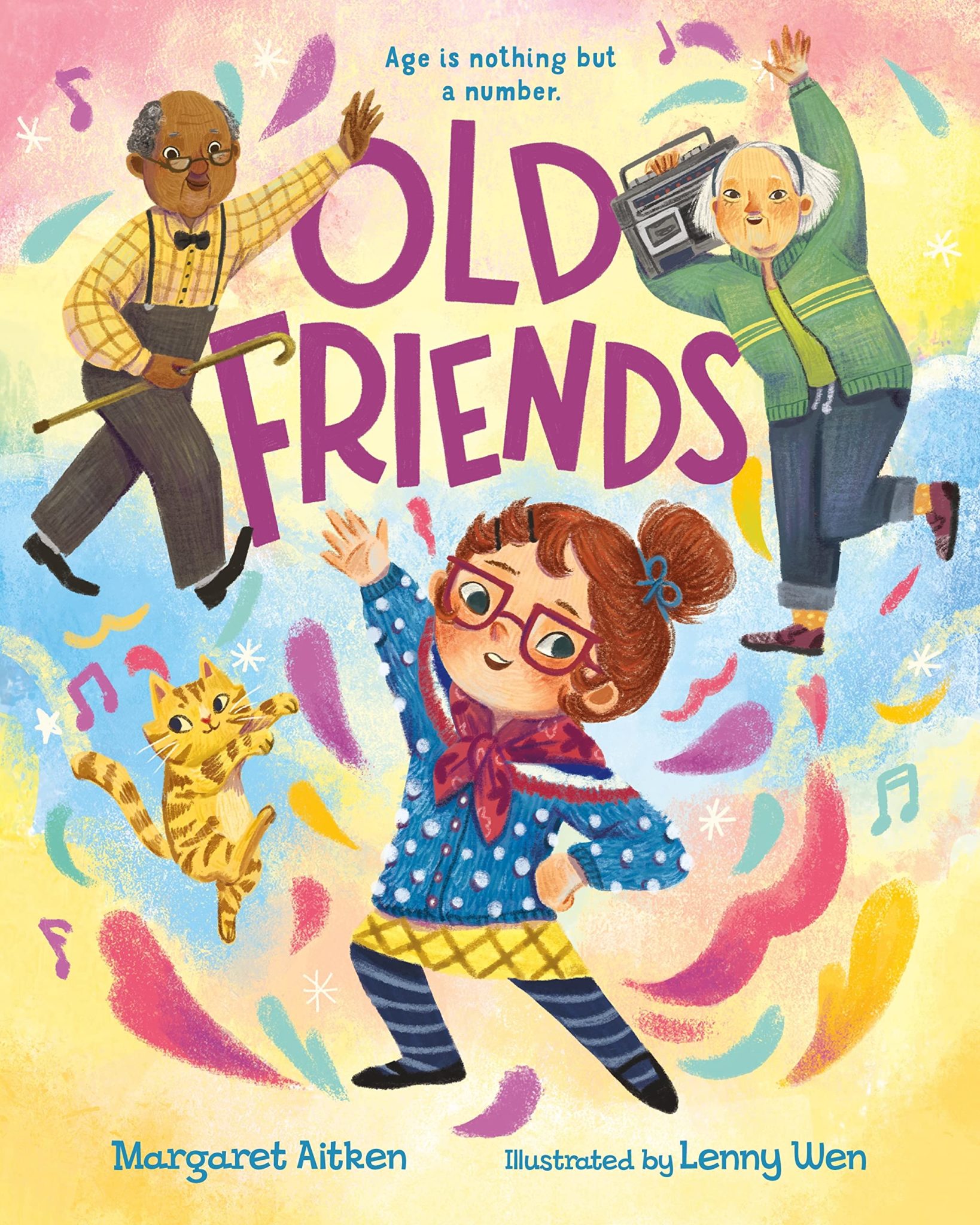 Finally, I wanted to include a picture book which celebrates ALL the elders in a child's life, and I was absolutely delighted when I came across "Old Friends" by Margaret Aitken! Readers are introduced to young Marjorie, an old soul who loves gardening, baking and knitting — activities she used to enjoy with her granny. Lying on a rug, surrounded by old records, photo albums and half-finished craft projects, Marjorie's love and longing for her late granny is gently acknowledged. The senior center seems like the perfect place to engage in her favorite hobbies and heal her heart with some new friends, but young Marjorie is quickly ushered to the kids' club to spend some time with people her own age. Granny never backed down from a challenge, and so Marjorie hatches a plan to infiltrate the senior center as "undercover granny," complete with borrowed glasses, a fuzzy cardigan and a dusting of flour in her hair! Marjorie's new friends at the senior center challenge her to try new things and embrace the fun to be had at any age. Her adorable adventures speak to the joys of intergenerational friendships and encourage kids to seek out people they can relate to, wherever they might be found!